North Carolina's Old Testament Prophet
The host of UNC-TV's NC Bookwatch, D.G. Martin also writes One-On-One, a weekly column that appears in over 40 newspapers across North Carolina.
One on One, Jan. 7, 2018: "North Carolina's Old Testament Prophet"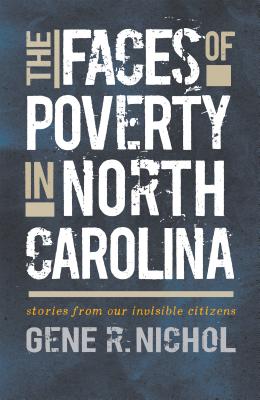 While I have been traveling up and down North Carolina's roads in search of local eateries, UNC Law School professor Gene Nichol has been traveling the same roads looking for something else.
I was gathering material for my book, North Carolina's Roadside Eateries, and enjoying bountiful helpings of warm comfort food in the company of well-fed, well-clothed, cheerful people experiencing the luxury of a secure and happy time with friends and family.
Meanwhile, Nichol was exploring a darker side of North Carolina life, the plight of people suffering from poverty in our state, for his new book, The Faces of Poverty in North Carolina: Stories from Our Invisible Citizens.
He was standing in the cold in the woods in small towns like Hickory where people were camping in tents and flimsy shelters, exposed to the weather and other dangers.
Nichol was also standing in line early in the morning in places like Fayetteville where people gather early in the mornings for help in securing shelter or food or critical health care treatment.
Finding the depths of sorry conditions resulting from widespread poverty, Nichol rings out like an Old Testament prophet challenging those of us who are comfortable, well-clothed, and well-sheltered to face the truth and accept responsibility for this suffering. Like the prophets, he condemns those of us who really don't want to know about the poor, hungry, sleepless, ill, and deprived. Or about those who suffer from gang violence, educational discrimination, and poor or non-existent health care.
All these things are so interconnected and reinforcing that, even if we cared enough to try to help, there are no quick and easy fixes that can win a war on poverty.
Who are these 1.5 million North Carolinians stricken by poverty? Nichol answers, "They are not the folks on the side of the road asking for handouts. They're our neighbors, the ones who wait on us or take care of our kids or sit down the row at church on Sunday. They are usually employed. They are almost always embarrassed. Frequently, they once had better jobs. But now they work longer hours for poorer wages and with fewer benefits. Their stories can crush. Parents willingly sacrifice their dignity, their health, and their well-being for their kids. Children are robbed of the ability to thrive and the joy of life by the ravages and the fears of hunger. These are folks who make choices daily that shouldn't have to be made in a nation of surpassing resources. They are forced into choices that most of us cannot readily contemplate. I know I can't."
Nichol has numbers at his fingertips to show the dismal conditions in our state and many of its localities.
A 2015 survey found that 21 percent of the state's residents "suffered from food hardship."
Poverty is not just concentrated in our small towns and rural areas. The same survey found the Greensboro-High Point statistical area was the "hungriest in the United States."
An earlier study had found that "Winston-Salem was the nation's worst large community for childhood food hardship among kids five and under."
Nichol's book is full of numbers that confirm the tragedy that surrounds us. But he says, they are only numbers. "Ripe for the forgetting. Poverty, though, isn't a number. It is a draining of the body, a wound to the soul, an injury that divides and diminishes, as it rejects. The numbers alone miss that."
Solutions?
Nichol concentrates on describing the extent and dimensions of poverty in our state rather than proposing solutions.
An exception is his assertion that by failing to adopt expanded Medicaid, our state government has condemned a host of its citizens to early death or disability. He criticizes leaders of both political parties for not addressing the monumental poverty crisis he describes.
Although there are no simple, obvious, or quick solutions, many readers of Nichol's passionate presentation and Old Testament-style prophecy will feel a compelling call to action.

$26.00
ISBN: 9781469646527
Availability: On our shelves now
Published: University of North Carolina Press - December 10th, 2018
These are the faces of poverty in North Carolina: scores of homeless men, women, and children take refuge in makeshift camps, barely hidden in the woods near some of our most affluent neighborhoods. Hundreds wait in lines hours long to receive basic health care at underfunded free clinics.
---

$16.00
ISBN: 9781469630144
Availability: On our shelves now
Published: University of North Carolina Press - October 3rd, 2016
Want to eat like the locals? D. G. Martin has spent years traveling the major roadways of North Carolina, on the lookout for community, local history, and, of course, a good home-cooked meal. Here D. G. is your personal tour guide to more than 100 notable local roadway haunts that serve not only as places to eat but also as fixtures of their communities.

---