Nancy is a master of making creative signage for our Children's area. She started up and works with our QRB Teen Advisory Board.

$15.99
ISBN: 9780061537967
Availability: On Our Shelves Now
Published: Harper Paperbacks - June 9th, 2009
As an avid animal lover and dedicated "dog person," when it comes to choosing my next book, my only rule is the dog can't die. However, I'm glad that I took a chance on The Art of Racing in the Rain. Garth Stein's canine narrator, Enzo, offers a unique and touching perspective of the human experience as he reflects on his long life, his relationships, and what he has learned from his human companions. Without saying a word, Enzo provides a powerful and honest voice and tells an uplifting story of love, loss, fast cars, and family loyalty. This exceptional story will keep you hooked to the very end.
---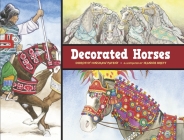 $17.95
ISBN: 9781580893626
Availability: Usually Ships in 1-5 Days
Published: Charlesbridge Publishing - February 10th, 2015
Author and illustrator highlight the history of the world as told from the back of the horse. Featuring horse breeds from the Americas to Europe to Asia and Africa, this colorfully illustrated picture book is one of the most beautiful and comprehensive that I have read. The information is accurate, engaging, and, most importantly, paints a cleaer picture of the many significant roles that horses have played throughout history. This unique find is a "must have" for any horse lover.
---

$9.99
ISBN: 9780062439109
Availability: On Our Shelves Now
Published: HarperTeen - May 3rd, 2016
What if the greatest adventure of your life was handed to you right now? Would you be able to relinquish control? For 17-year-old Virginia, adventure came in the form of of 13 little blue envelopes left by her eclectic, runaway aunt. Each envelope provides instructions for the next leg of her journey - a life-changing journey that pulls her away from the comforts of life in New Jersey for an exciting European adventure. This is a quick and exciting read that you won't want to put down.
---