Jeremy B. Jones | Bearwallow (online)
This event has been canceled. Please tune in to Bookin' on December 13 to hear Jeremy discuss Bearwallow with Jason Jefferies.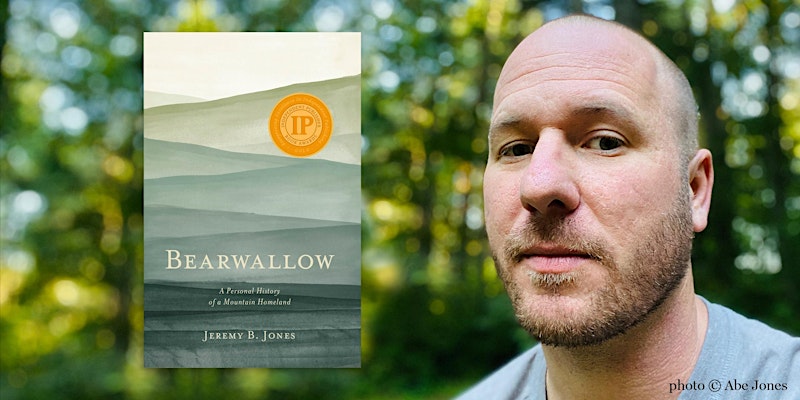 Mesha Maren and Jeremy Jones talk about their books and trying to write about the places they're from—the beautiful, complicated, and easily stereotyped world of Appalachia.
Across the Blue Ridge Mountains stretches a world both charming and complicated. Jeremy Jones and his wife move into a small house above the creek where his family had settled 200 years prior. He takes a job alongside his former teachers in the local elementary school and sets out on a search to understand how this ancient land has shaped its people—how it shaped him.
"Jeremy Jones shows the complexity of a region and a people too often reduced to the crudest of stereotypes, and by doing so gains even greater self-awareness. Bearwallow is a book to be savored." —Ron Rash, author of Serena
Bearwallow is a thoughtful reflection on what it means to be a particular kind of southerner—one who went away and returned to see his homeplace anew through fresh eyes. Jeremy B. Jones revels in what many have known for years—that there is not now and never has been a singular Appalachian experience. Jones's writing is clear-eyed, curious, and reverent. This memoir is a pure pleasure to read. —Beth Macy, Dopesick and Factory Man
Bearwallow is a marvel of a book—intricate and wise. Jones folds the past in with the present—his ancestors' stories in with his own and those of the new generations of immigrants—tales told in beautiful, meditative prose that stack up like the mountain ridges, one on top of another in a seamless continuum. —Mesha Maren, Sugar Run
In prose vivid and fresh, Jeremy Jones gives us an intimate and in-depth study of contrasting worlds—Latin America, the Blue Ridge Mountains, old families, new Hispanic arrivals, the pull of home, and the need to escape. ... It is a story of both teaching and learning, of roots, and of unexpected discovery. Bearwallow is a delight to read. —Robert Morgan, author of The Road from Gap Creek
Jeremy B. Jones' Bearwallow was named the 2014 Appalachian Book of the Year in nonfiction and awarded gold in memoir in the 2015 Independent Publisher Book Awards. His essays appear in numerous literary journals and anthologies, including Oxford American, Appalachian Reckoning, and The Iowa Review. Born and raised in the mountains of North Carolina, Jeremy earned his MFA from the University of Iowa and now serves as an associate professor of English at Western Carolina University, where he teaches creative writing and directs the Spring Literary Festival.
Register
Event date:
Thursday, November 11, 2021 -

7:00pm

to

8:00pm
Event address:
North Hills
4209-100 Lassiter Mill Road

$17.95

ISBN: 9781949467543
Availability: On our shelves
Published: Blair - May 25th, 2021
Across the Blue Ridge Mountains stretches a world both charming and complicated.
---

$15.95

ISBN: 9781616209810
Availability: On our shelves
Published: Algonquin Books - October 8th, 2019
"A heady admixture of explosive plot and taut, burnished prose . . . Mesha Maren writes like a force of nature." —Lauren Groff, author of Florida

In 1989, Jodi McCarty is seventeen years old when she's sentenced to life in prison.
---

$26.95

ISBN: 9781643750941
Availability: Coming soon - PRE-ORDER NOW!
Published: Algonquin Books - January 25th, 2022
"Perpetual West is an ambitious novel rendered in striking, sensual prose.
---