Annie Krabbenschmidt | Fred (in store)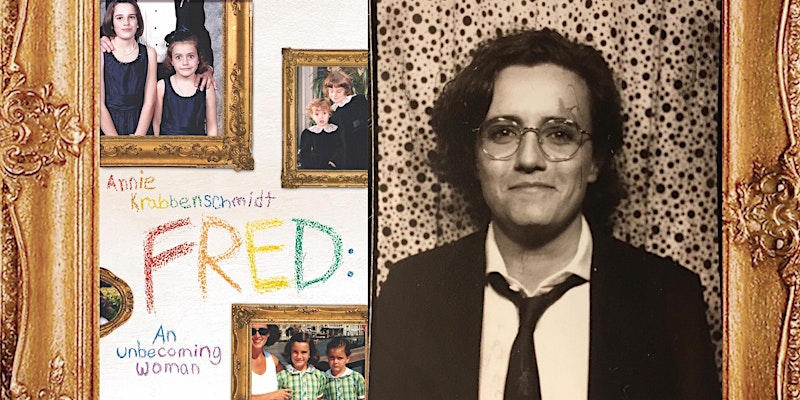 Fred begins with a reckoning; narrator and author realizes that she is undoubtedly, inescapably gay. The first half of the book is a documentation about what it takes to accept one's sexuality, or even acknowledge it. Annie retells the story of going from unaware high school senior, to closeted lesbian, to deeply in love closeted lesbian. When she realizes that she is ready for love, she enlists friends to help her come out, as slowly and excruciatingly as possible.
The second half of the book is a set of thematic essays examining specific components of her life that could help explain the strength of the internalized homophobia that Annie is starting to fight. The book ends with an epic victory earned over six or seven years of work.
Annie Krabbenschmidt grew up in the Bay Area and graduated from Duke University. After several years of oscillating between a career in public policy and a career in art, Annie decided to combine their interests into one: art as activism. Annie has done stand-up comedy, storytelling, and improv, written op-eds and speeches, and recorded at least 100 hours of a very gay podcast; all with the conviction that human narratives are the best way to bring empathy and social change into the world. Fred: An Unbecoming Woman is their first book.
In conversation with Adam Hollowell, co-author of You Mean It or You Don't: James Baldwin's Radical Challenge and director of the Global Inequality Research Initiative at the Samuel DuBois Cook Center at Duke University. He lives in Durham, North Carolina.
Can't attend Live but want a signed copy? Order below. Please include personalization requests in the notes field during checkout (requests but be received by Friday, June 17).
Event date:
Tuesday, June 21, 2022 -

7:00pm

to

8:00pm
Event address:
North Hills
4209-100 Lassiter Mill Road

$16.00

ISBN: 9798985043204
Availability: On our shelves
Published: Radical Queer Dinner Party Books - June 3rd, 2022
As she recounts the journey from the blissful non-committance of her "straight" origins, to falling in love, to her years spent (shockingly) alone, Annie Krabbenschmidt's debut book is both wickedly funny and heartbreaking. More autotheory than memoir, Fred deconstructs the institution of "womanhood," defying gender and genre.



---