(RESCHEDULED) Frank Harmon - 'Native Places: Drawing As A Way to See' (reserved seating)
We are so disappointed that the weather is forcing the cancellation of the event.
It has been rescheduled for Sunday, September 23 at 2 pm.

If you cannot join us then and would like your book signed and personalized please call or send an email and we will have that done for you.
If you would like a refund please let us know and we will take care of it immediately.
Native Places is a collection of sixty-four watercolor sketches paired with mini-essays about architecture, landscape, everyday objects, and nature. The sketches relate the delight found in ordinary places. The short essays, rather than repeat what is visible in the sketch, illustrate ideas and thoughts sparked by that image and offer a fresh interpretation of ordinary things. The goal of Native Places is, in part, to transform the way we see. Through its pages, barns become a guidebook to crops and weather; a country church is redolent of the struggle for civil rights and human dignity; a highway rest stop offers a glimpse of egalitarian society. Also exploring the belief that hand drawing and writing are not obsolete skills, both disciplines offer us the opportunity to develop a natural grace in the way we view the world and take part in it.
This will be a reserved seating event. Please preorder the book to receive a ticket!
Harmon, FAIA, has designed sustainable modern buildings across the Southeast for 30 years.
Our author will be introduced by Angela Davis-Gardner, author of books such as Plum Wine and Butterfly's Child.
Event date:
Saturday, September 15, 2018 - 4:00pm
Event address:
North Hills
4209-100 Lassiter Mill Road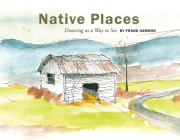 $24.95

ISBN: 9781940743455
Availability: On our shelves
Published: Oro Editions - September 16th, 2018
Native Places: Drawing as a Way to See is a collection of 64 of the author's watercolor sketches paired with 200 to 250-word essays about architecture, landscape, everyday objects, and nature. The sketches convey the delight Harmon finds in ordinary places and objects. The brief essays, inspired by the sketches, offer his fresh interpretations of what most of us take for granted.
---

$17.00
Email or call for price.
ISBN: 9780385340953
Published: Dial Press Trade Paperback - April 10th, 2012
When three-year-old Benji is plucked from the security of his home in Nagasaki to live with his American father, Lt. Benjamin Franklin Pinkerton, and stepmother, Kate, on their farm in Illinois, the family conceals Benji's true identity as a child born from a liaison between an officer and a geisha—and instead tells everyone that he is an orphan.
---

$16.00

ISBN: 9780385340830
Availability: On our shelves
Published: Dial Press Trade Paperback - March 27th, 2007
Bottles of homemade plum wine link two worlds, two eras, and two lives through the eyes of Barbara Jefferson, a young American teaching at a Tokyo university.
---