Anthony Doerr | Cloud Cuckoo Land (virtual)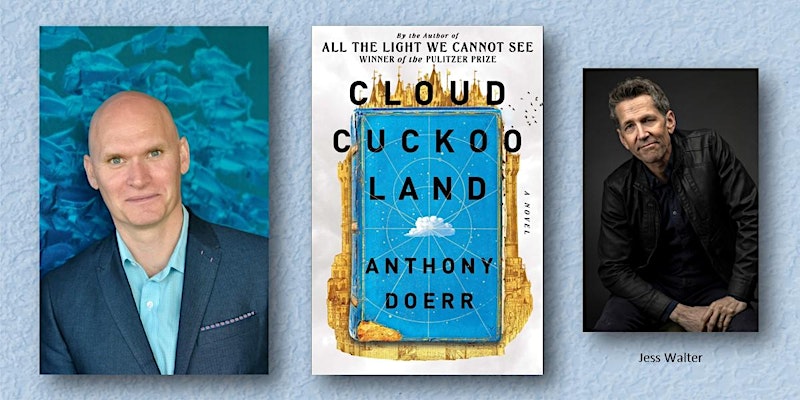 In conversation with Jess Walter (The Cold Millions, Beautiful Ruins)
Publishers Weekly calls Cloud Cuckoo Land "a marvel" in its starred review. The novel is a triumph of imagination and compassion, a soaring narrative about children on the cusp of adulthood in a broken world, who find resilience, hope, and story. Hauntingly beautiful and redemptive, Cloud Cuckoo Land is about stewardship—of the book, of the Earth, and of the human heart. The first 50 registrants will receive signed bookplates with their copy of the book.

Anthony Doerr is the author of All the Light We Cannot See, winner of the Pulitzer Prize, the Carnegie Medal, the Alex Award, and a #1 New York Times bestseller. He is also the author of the story collections Memory Wall and The Shell Collector, the novel About Grace, and the memoir Four Seasons in Rome. He has won five O. Henry Prizes, the Rome Prize, the New York Public Library's Young Lions Award, the National Magazine Award for fiction, a Guggenheim Fellowship, and the Story Prize. Born and raised in Cleveland, Ohio, Doerr lives in Boise, Idaho, with his wife and two sons.

Jess Walter is the author of nine books, most recently the national bestseller The Cold Millions and #1 New York Times bestseller, Beautiful Ruins; The Zero, finalist for the National Book Award; and Citizen Vince, winner of the Edgar Award. His work has been published in 32 languages and his short fiction has appeared three times in Best American Short Stories. He lives in Spokane, Washington, with his family.
Event date:
Tuesday, October 12, 2021 - 7:00pm
Event address:
North Hills
4209-100 Lassiter Mill Road