Chef Vivian Howard's Deep Run Roots
D.G. Martin is the host of the UNC-TV program NC Bookwatch, airing Sundays at 11:00 am and Tuesdays at 5:00 pm:
On the show January 20 and 22: Vivian Howard talks about Deep Run Roots.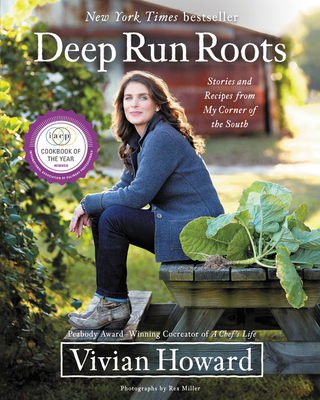 From D.G. Martin: Sadly, Vivian Howard's wonderful PBS program A Chef's Life concluded its five-year run in October 2018, after five successful seasons. Howard has said that part of her success is a willingness to embrace imperfections as a part of her cooking and life itself. There is talk of a new show and, hopefully, she will be back on television soon to share more of her charming imperfections.
In the meantime we still have her Kinston restaurant, Chef and the Farmer, known and admired across the country to remind us how tasteful and delicious her imperfect dishes can be.
And we will always have her popular memoir Deep Run Roots: Stories and Recipes from My Corner of the South, in which she writes, "Eastern North Carolina is my Tuscany, my Szechuan, my Provence."
She continues, "This book is the story of my life so far, told through the ingredients that fill the plates and pantries of my home: Deep Run, North Carolina. A tiny farming community about halfway between Raleigh and the Atlantic Ocean, Deep Run is a nondescript dot on Eastern North Carolina's flat coastal plain. No stoplights, no strip malls – Deep Run is not a town; it's a fire district.
"This is a Southern cookbook, but not one that treats the South like one big region where everybody eats the same fried chicken, ribs, shrimp and grits, collard greens, and gumbo. Instead, I interpret Southern cooking the way we understand French, Italian, and Chinese food: as a complex cuisine with abundant variations shaped by terrain, climate, and people."

$45.00
ISBN: 9780316381109
Availability: On our shelves now
Published: Little, Brown and Company - October 4th, 2016
THE NEW YORK TIMES BESTSELLER




WINNER OF AN ASTONISHING FOUR IACP AWARDS, INCLUDING COOKBOOK OF THE YEAR AND THE JULIA CHILD FIRST BOOK AWARD





Vivian Howard, star of PBS's A CHEF'S LIFE, celebrates the flavors of North Carolina's coastal plain in more than 200 recipes and stories.


---