I'm a lifelong fan of books and reading! Love all books but especially fond of History, Current Events, Fiction (Old & Modern), Science Fiction, Horror, a little bit of Mystery, and Graphic Novels to list a few. I enjoy working here and I am glad to be part of the QRB family!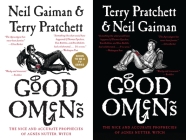 $17.99
ISBN: 9780060853976
Availability: On Our Shelves Now
Published: William Morrow Paperbacks - August 7th, 2007
Hi! It's the Apocalypse! Yes, the end of the world has finally come after all this time. At long last, Heaven and Hell are preparing for final battle.

That particular bit of news creates a wee problem for a pair of friends who also just so happen to be celestial beings (an angel and a demon) charged with keeping an eye on humanity. The problem? Well, you see, they're rather fond of Earth and, despite our inherent flaws, they like us as well. Besides, the Apocalypse would just create all sorts of bother that they would rather not have to deal with.

What follows is a comedy of errors as the two combine their efforts to stop things from getting out of hand. Preferably, before afternoon tea if at all possible. Good Omens is delightful read from start to finish!
---

$32.50
ISBN: 9781501141515
Availability: Usually Ships in 1-5 Days
Published: Simon & Schuster - September 27th, 2016
New Jersey native son Springsteen shares the story of the foundations of one of the biggest musical acts in the modern music industry. Despite their successes, things have not always been easy for either Springsteen or the members of the E Street Band. Finding inspiration from their individual and shared lives, these musicians parlayed those experiences into iconic music that has found favor with listeners worldwide.

Written in a disarmingly easy-going style, Springsteen successfully relates to audiences regardless of their exposure to his music. Whatever your starting point, Born to Run makes for an entertaining read.
---