Dating Him: The Series (Paperback)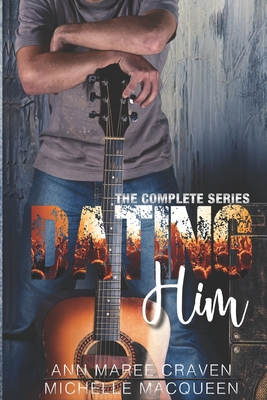 $23.99

Ships from warehouse to store in 1-5 business days
(PLEASE NOTE: This book cannot be returned!)
Description
---
Dating Him is the complete sweet M/M series that includes Dating Nashville, Dating Washington, and Dating Texas.
Dating Nashville
How does a straight guy accidentally come out as gay to the entire country music world?
The truth is, he doesn't.
It happened so fast. One moment, Beckett Anderson stood on stage watching his best friend's little brother standing in a sea of people as his heart broke in two.
The next, he'd jumped off stage to give him the kiss of his life-or maybe the kiss of Becks' life.
So, that question about the straight guy... well, maybe it's not so black and white. Maybe when Beckett begs Nicky to play his boyfriend for the media, a part of him wants it all to be real.
Dating Washington
How does the president's son fall for the closeted son of a senator?
The truth is, he didn't want to.
The only home Asher Brooks has ever known is the white house--yes, that white house. As the son of two presidents, the expectations weigh on him. The only person who never made him feel like he needed to be someone different, someone better, was his best friend--a friend who abandoned him the moment Asher revealed who he truly was.
But this is Washington, and there's no avoiding Kenny Montgomery.
So, that question about falling for the wrong person... maybe it's not so black and white. Maybe when Kenny kisses him, he's allowed to kiss him back.
Dating Texas
How does the future NHL goaltender fall for his tech nerd roommate?
The truth is, he decided not to fight it.
Killian "Killer" James doesn't fit into the elite world of Defiance Academy. There on a hockey scholarship, his Texas ranch hand ways are foreign to his wealthy classmates.
And then there's Diego, the kid who never looks up from the computer screen in their shared dorm room, the one whose genius is intimidating.
Boys like them aren't supposed to be friends, they aren't supposed to share secret smiles or distract each other from the goals that have gotten them this far.
So that question about the jock and the nerd... maybe distractions aren't such a bad thing. Maybe it's time for Killian to step out of his own lonely world and join Diego in his.
Dating Him contains plenty of M/M swoon in a clean package. Perfect for fans of Simon vs. the Homosapien Agenda, Red White & Royal Blue, and What if it's Us.