Far Side of the Moon: Apollo 8 Commander Frank Borman and the Woman Who Gave Him Wings (MP3 CD)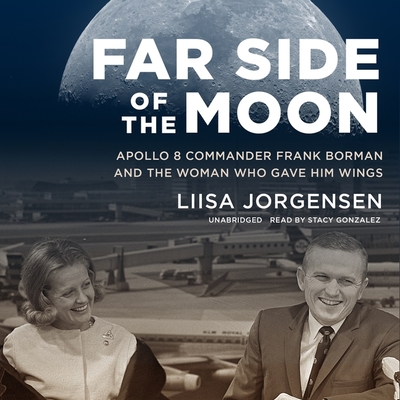 Staff Reviews
---
I have been a fan of the history of the "space race" for most of my life.  I've read every book about NASA, astronauts, launch facilities, and even cosmonauts, that I could get my hands on. The achievements and courage of the astronauts are the stuff of legend.  But one thing that hardly ever gets reported is the price that the families paid.  Far Side of the Moon by Liisa Jorgensen gives us a look into that subject. I was a military brat myself, so I had some idea of the hardships of having a loved one away from home; but I didn't have the press constantly watching my every move.  This book takes a deep dive into the price that Susan Borman, wife of the Commander of the first mission to take humans to the moon, paid for her country.  The men were always focused on "the Mission".  Their families were supposed to show a good face, be "pleased and proud" about every flight, and shut up about any fears or doubts they might have.  Susan Borman was married to, arguably, the best astronaut in the program.  She kept up the facade of the perfect wife of an astronaut.  But, behind the scenes she was falling apart, turning to alcohol to cope with the pressures.  Far Side of the Moon tells her story of pain and responsibility.  It also tells us of the love between Frank and Susan, so it is ultimately a story of hope. It is truly what the sub-title says, a story of "Apollo 8 Commander Frank Borman and the Woman Who Gave Him Wings".
— Bill
Description
---
Perhaps the most human story to emerge from mankind's greatest technological achievement.--Capt. Phil Rowdy Yates (USN Ret.)
Far Side of the Moon is the untold, fully authorized story of the lives of Frank and Susan Borman. One was a famous astronaut--an instrumental part of the Apollo space program--but the other was just as much a warrior. This real-life love story is far from a fairy tale.
Life as a military wife was beyond demanding, but Susan always rose to the occasion. When Frank joined NASA and was selected to command the first mission to orbit the moon, Susan's well-hidden depression and alcoholism finally came to light. Frank had to come to terms with how his mission above all else mentality contributed to his wife's suffering. As Susan healed, she was able to begin helping others who suffered in silence from mental illness and addiction.
Discover how Frank and Susan's love and commitment to each other is still overcoming life's challenges, even beyond their years as an Apollo commander and the founder of the Astronaut Wives Club.
Free Media Mail shipping on U.S. orders over $50