Cuentos Chinos / Chinese Stories (Paperback)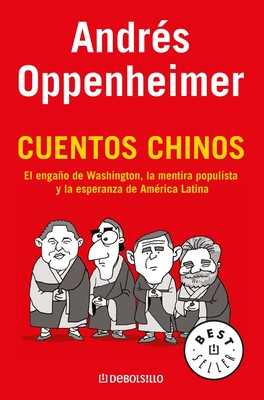 $10.50

Ships from warehouse to store in 3-6 business days
Description
---
¿Por qué América Latina no avanza y los llamados países emergentes lo hacen a toda velocidad? Este libro busca las claves.

¿Quién presenta un panorama realista de los próximos veinte años para América Latina y quién está contando "cuentos chinos"? Para responder a esta pregunta, Andrés Oppenheimer, coganador del premio Pulitzer, ganador del premio Rey de España y del Ortega y Gasset, y el periodista latinoamericano más galardonado, viajó por China, Irlanda, España, Polonia, la República Checa, Estados Unidos y media docena de países de América Latina.

El resultado es este libro, tan desprejuiciado como revelador de las claves de esa región tan importante para España. Con su inconfundible estilo, mezcla de crónicas de viaje, entrevistas con los principales líderes políticos, reflexiones y sentido del humor, Oppenheimer presenta su visión sobre el mundo del siglo XXI: qué países latinoamericanos tienen posibilidades de progresar y cuáles están encaminados al fracaso en el nuevo contexto internacional marcado por el auge de China como segunda potencia mundial.

Con su habitual lucidez y una prosa pulida y potente, el periodista latinoamericano más influyente de la actualidad ofrece aquí un reportaje fascinante que trasciende las ideologías, rompe con el pensamiento políticamente correcto del momento y marca un rumbo sorprendentemente optimista sobre el futuro latinoamericano.
ENGLISH DESCRIPTION Why can't Latin America ever get ahead, when the so-called "emerging countries" seem to be able to do it at full speed? This book searches for clues. With his unmistakable style—a mix of travel reports, interviews with prominent political leaders, reflections, and sense of humor—Oppenheimer presents his vision about the world in the 21st century: which Latin American countries have the possibility to progress and which are doomed to fail in the new international context, marked by the rise of China as the world's second greatest power.
About the Author
---
Nacido en Argentina,Andrés Oppenheimer se inició en el periodismo en su país natal, se doctoró en periodismo en la Universidad de Columbia en 1978 y comenzó a trabajar en The Associated Pressen Nueva York ese mismo año. Desde 1983 trabaja para The Miami Herald y su columna sindicada se publica semanalmente en más de cuarenta periódicos. Su nombre figura en el ranking de periodistas más influyentes de Estados Unidos que realiza la revista Forbes y su trabajo ha sido reconocido con los más prestigiosos premios internacionales: ha sido co-ganador del Premio Pulitzer, ganador del Premio Ortega y Gasset y del Maria Moors Cabot. Ha publicado varios bestsellers, entre ellos México: en la frontera del caos, Crónicas de héroes y bandidos, La hora final de Castro, Ojos vendados, Cuentos chinos y Los Estados desunidos de Latinoamérica.
Free Media Mail shipping on U.S. orders over $75