Trenza del mar Esmeralda / Tress of the Emerald Sea (NOVELA SECRETA / SECRET PROJECTS #1) (Hardcover)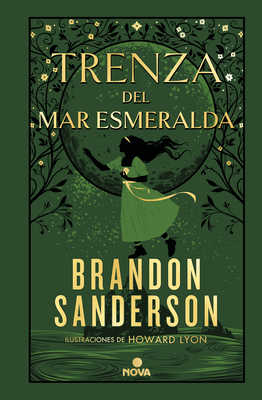 $29.95

Ships from warehouse to store in 3-6 business days
Other Books in Series
This is book number 1 in the NOVELA SECRETA / SECRET PROJECTS series.
Description
---
Vuelve al universo del Cosmere con una aventura divertida y cautivadora que encantará a los fans de La princesa prometida.

En su isla natal sobre un océano verde esmeralda, la única vida que Trenza conoce es sencilla, marcada por el placer de coleccionar las tazas que traen los marineros de tierras lejanas y escuchar las historias que le cuenta su amigo Charlie. Pero cuando el padre de Charlie se lo lleva en barco para buscarle esposa y sucede una catástrofe, Trenza deberá colarse como polizona en un barco y partir en busca de la hechicera que habita en el mortífero mar de Medianoche. Sobre unos océanos de esporas repletos de piratas, ¿podrá Trenza abandonar su tranquila vida y crearse un lugar en un océano donde una sola gota puede significar la muerte instantánea?

ENGLISH DESCRIPTION

#1 New York Times bestselling author Brandon Sanderson expands his Cosmere universe shared by The Stormlight Archive and Mistborn with a new standalone novel for everyone who loved The Princess Bride.

The only life Tress has known on her island home in an emerald-green ocean has been a simple one, with the simple pleasures of collecting cups brought by sailors from faraway lands and listening to stories told by her friend Charlie. But when his father takes him on a voyage to find a bride and disaster strikes, Tress must stow away on a ship and seek the Sorceress of the deadly Midnight Sea. Amid the spore oceans where pirates abound, can Tress leave her simple life behind and make her own place sailing a sea where a single drop of water can mean instant death?
About the Author
---
Brandon Sanderson (Lincoln, Nebraska, 1975) es el gran renovador de la fantasía del siglo XXI, con veintitrés millones de lectores, y el autor más prolífico del mundo. Desde que debutara en 2006 con su novela Elantris, ha deslumbrado a lectores en treinta lenguas con el Cosmere, el fascinante universo de magia que comparten la mayoría de sus obras. Sanderson es autor de la brillante saga Nacidos de la Bruma (Mistborn), formada por El Imperio Final, El Pozo de la Ascensión, El Héroe de las Eras, Aleación de ley, Sombras de identidad y Brazales de Duelo. Tras El aliento de los dioses, una obra de fantasía épica en un único volumen en la línea de Elantris, inició con El camino de los reyes una magna y descomunal decalogía, El Archivo de las Tormentas, que continuó con Palabras radiantes, Juramentada y El Ritmo de la Guerra (además de la novela corta Esquirla del Amanecer). Con la serie Escuadrón (Escuadrón, Estelar, Citónica y Escuadrón Cielo), Sanderson se acerca, también, a los lectores de la ciencia ficción. Con un plan de publicación de más de veinte futuras obras (que contempla la interconexión de todas ellas), el Cosmere se convertirá en el universo más extenso e impresionante jamás escrito en fantasía épica.
 
Sanderson vive en Utah con su esposa e hijos y enseña escritura creativa en la Universidad Brigham Young. Curso de escritura creativa es el libro que recoge sus valiosos consejos.
Free Media Mail shipping on U.S. orders over $75
"Ships from warehouse" books to be shipped: order by Wednesday, 12/6
"Ships from warehouse" books for pickup: order by Tuesday, 12/12