Chakra Healing: 2 Books in 1 - The Ultimate Reiki and Crystal Guide to Healing Yourself from Within (Paperback)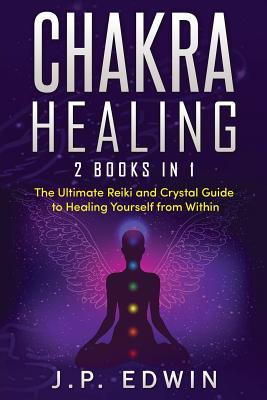 $17.99

Ships from warehouse to store in 3-6 business days
Description
---
Chakras are powerful energy centers within every living being. They have direct impact on your physical, mental, emotional and spiritual well-being. There are various ways of realigning our chakras. In this book, we will be focusing on healing them using Reiki and Crystals.
Remember Einstein's words? - "Energy cannot be created or destroyed, it can only be changed from one form to another."
You must first realize that everything comprises energy. Yet energy is nothing without form, without pattern. You are the one who gives the energy its meaning. This is very important to understand to be able to yield the full benefits of both Reiki and Crystals.
Marcel Vogel, one of the first scientists who did experiments with crystals, discovered that they took the form and the shape of whatever he was thinking about. They were responding to his vibrational attitude.
Reiki is a practice of relaxing completely - guiding your energy, changing it, improving its flow through your body and removing blocks that cause pain and tension.
The key is to know that the true power lies in your own thoughts.
This 2-in-1-Bundle series includes the following 2 books:
1. Reiki Healing for Beginners: Improve Your Health, Increase Your Energy and Raise Your Vibration
2. Crystals and Gemstones: Guide to Healing Illnesses with the Power of Stones
In this book you will discover:
● The science of Reiki: how to restore the balance of internal energy;
● The ways of dealing with negative energies and stresses of the world;
● How to do Reiki on Yourself: Physical, mental and emotional healing;
● Connecting with Reiki Energy, Setting Your Intention;
● Healing Others Using Reiki;
● Additional Therapies to Use with Reiki: Crystal therapy, Yoga, Meditation;
● Understanding crystals and their healing powers
● Choosing the right crystals for you
● Important and powerful crystals and their Healing properties
● Taking care of crystals and protecting them from absorbing any harmful energies
● Placement of crystals for everyday benefits & more...
Free Media Mail shipping on U.S. orders over $75