The Drink Master: Become a Tasting Expert at a Glance (100 Cards) (Cards)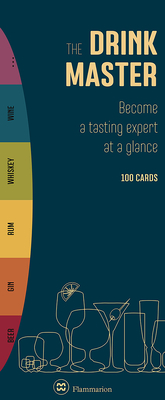 $27.95

Coming soon - PRE-ORDER NOW!
Description
---
This clever and original drink lover's tool is a must-have reference for wine and spirits aficionados.

Divided into categories that range from sparkling wines to whiskeys and from beers to liqueurs, each entry--such as beer, champagne, gin, malt whiskey, rum, or cognac--in this colorful set of memory cards provides detailed information on everything from origins and composition to distillation, maturation, and bottling. Iconic brands, tasting notes, and instructions on how to serve each drink--including cocktail recipes--make this an indispensable reference.

Anyone who has ever wondered about the differences between Scottish and Irish whiskeys, how gins are distilled, or what mescal is made from will find their questions answered in these one hundred succinct and streamlined entries. Lesser-known products from around the world are also featured, complementing and enriching the reader's knowledge.

Presented in an elegant slipcase, the thick, double-sided pages are bound together with a grommet and can be turned, flipped, and fanned out like a deck of cards.

Full of easily accessible and illustrated information, this guide is sure to delight all who appreciate wines and spirits, both amateurs and professionals alike.
About the Author
---
La Maison du Whisky has been a leading importer of spirits into Europe for more than sixty years. International wines and spirits expert Didier Ghorbanzadeh is responsible for product expertise and training at La Maison du Whisky.
Free Media Mail shipping on U.S. orders over $75
"Ships from warehouse" books to be shipped: order by Wednesday, 12/6
"Ships from warehouse" books for pickup: order by Tuesday, 12/12