Borges and Me: An Encounter (Paperback)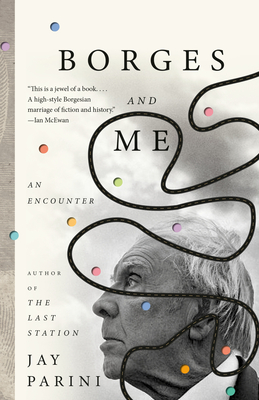 Staff Reviews
---
A beautiful memoir of author Jay Parini's vulnerable and diffident youth. The book takes place during Parini's time as an aspiring poet and graduate student at the University of St. Andrews beginning in 1971. Parini is quickly taken under the wing of an eccentric poet and translator who then introduces him to the internationally admired Jorge Luis Borges. Borges and Parini, the ultimate odd couple, are quickly swept up in a Scottish Highlands road trip that is the basis of the book. 
This book has charm, wit and consternation. It will be especially of interest to anyone trying their hand at writing and looking to find their voice. Fans of Borges are sure to delight in Parini's account.
— Peggy
Description
---
In this evocative work of what the author in his afterword calls "a kindof novelistic memoir," Jay Parini takes us back fifty years, when he fled the United States for Scotland—in flight from the Vietnam War and desperately in search of his adult life. There, through unlikely circumstances, he meets the famed Argentinian author Jorge Luis Borges.

Borges—visiting his translator in Scotland—is in his seventies, blind and frail. When Borges hears that Parini owns a 1957 Morris Minor, he declares a long-held wish to visit the Highlands, where he hopes to meet a man in Inverness who is interested in Anglo-Saxon riddles. As they travel, stopping at various sites of historical interest, the charmingly garrulous Borges takes Parini on a grand tour of Western literature and ideas, while promising to teach him about love and poetry. As Borges's idiosyncratic world of labyrinths, mirrors, and doubles shimmers into being, their escapades take a surreal turn.

Borges and Me is a classic road novel, based on true events. It's also a magical mystery tour of an era, like our own, in which uncertainties abound, and when—as ever—it's the young and the old who hear voices and dream dreams.
About the Author
---
Jay Parini is a poet, novelist, and biographer who teaches at Middlebury College. He has written eight novels, including The Damascus Road, Benjamin's Crossing, The Apprentice Lover, The Passages of H.M., and The Last Station, the last made into an Academy Award–nominated film. His biographical subjects include John Steinbeck, Robert Frost, William Faulkner, and, most recently, Gore Vidal. His nonfiction works include Jesus: The Human Face of God, Why Poetry Matters, and Promised Land: Thirteen Books That Changed America.
Praise For…
---
"This is a jewel of a book. . . . A high-style Borgesianmarriage of fiction and history." —Ian McEwan

"A classic comic-philosophical road story, playfully conscious of its own traditions." —The Wall Street Journal

"A delicious treat. . . . This reminiscence by Parini, who is now a prolific novelist, biographer and poet, brings Borges more sharply to life than any account I've read or heard." —Michael Greenberg, The New York Times Book Review

"One of the great books of our time." —Michael Silverblatt, Bookworm, KCRW

"A tender bond forms between the eccentric sage and his caretaker. . . . Fans of both Borges and Parini will delight in this touching coming-of-age memoir." —Publishers Weekly (starred review)

"A captivating chronicle and homage." —Kirkus Reviews

"Borges and Me is a road-trip book like no other, written by someone who certainly didn't spend his youth the way I did. I loved every minute of reading it. It's full of wonderful energy and humor, with underpinnings of sadness and seriousness I can't shake." —Ann Beattie

"A loving portrait of [a] singular writer. . . . As Parini chronicles their misadventures with the hilarity of hindsight, he palpably re-creates his youthful anxiety and Borges' own sometimes infuriating sanguinity." —BookPage