Joan: A Novel of Joan of Arc (Hardcover)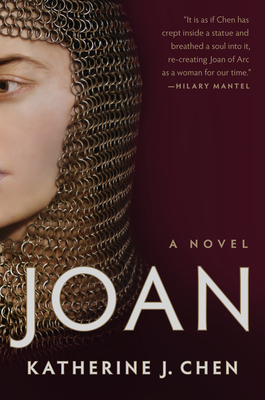 Staff Reviews
---
This is one of my favorite fiction reads of the past few years! It is a powerful, secular reimagining of the life of Joan of Arc, written in gorgeous prose and vivid detail by Katherine J. Chen. This is a Joan of Arc for today: fierce, furious, and true to the spirit of a mysterious teenage girl who inspired a country to fight back. It is poetic and brilliant and beautiful and I wanted to read it again as soon as I finished.
— Rebecca S.
Description
---
"This is not your grandmother's St. Joan. . . . If every generation gets the Joan it deserves, ours could do worse than an ass-kicking, avenging angel fighting simply for the right to fight."—The New York Times Book Review

WINNER OF THE AMERICAN LIBRARY IN PARIS BOOK AWARD • "It is as if Chen has crept inside a statue and breathed a soul into it, re-creating Joan of Arc as a woman for our time."—Hilary Mantel, #1 New York Times bestselling author of the Booker Prize winner Wolf Hall

"A secular reimagining and feminist celebration of the life of Joan of Arc that transforms the legendary saint into a flawed yet undeniable young woman."—USA Today

1412. France is mired in a losing war against England. Its people are starving. Its king is in hiding. From this chaos emerges a teenage girl who will turn the tide of battle and lead the French to victory, becoming an unlikely hero whose name will echo across the centuries. 

In Katherine J. Chen's hands, the myth and legend of Joan of Arc is transformed into a flesh-and-blood young woman: reckless, steel-willed, and brilliant. This meticulously researched novel is a sweeping narrative of her life, from a childhood steeped in both joy and violence, to her meteoric rise to fame at the head of the French army, where she navigates the perils of the battlefield and the equally treacherous politics of the royal court. Many are threatened by a woman who leads, and Joan draws wrath and suspicion from all corners, while her first taste of fame and glory leaves her vulnerable to her own powerful ambition. 

With unforgettably vivid characters, transporting settings, and action-packed storytelling, Joan is a thrilling epic, a triumph of historical fiction, as well as a feminist celebration of one remarkable—and remarkably real—woman who left an indelible mark on history.
About the Author
---
Katherine J. Chen is the author of the novel Mary B. Her work has been published in The New York Times, the Los Angeles Review of Books, Literary Hub, and the historical fiction anthology Stories from Suffragette City. She received her MFA from Boston University, where she was a senior teaching fellow and awarded the Florence Engel Randall Fiction Prize.
Praise For…
---
"The only miracles enacted in these pages are the ones the writer herself pulls off: In Joan, Ms. Chen retrieves the worn fragments of Joan of Arc's story and assembles them into a narrative that's eerie, austere and just this side of plausible. To do so is no small feat."—Maureen Corrigan, The Wall Street Journal

"Chen's Joan has a scrappy, resilient childhood filled with both abuse and love. She grows up learning to fight, but always for justice on behalf of the people and country she loves."—The Washington Post

"This Joan is no pious maiden but a strong soldier and smart military strategist and logistician; and yes, she really did pull an arrow out of her own neck."—Margaret Atwood (on Twitter)

"A fierce fictional retelling of the life of Joan of Arc . . . Deeply researched and fully imagined, Joan manages to subvert the old, dusty narratives about the ardent virgin warrior from Domrémy in Eastern France, and creates a flawed, complicated, and compelling heroine for our age."—Citation from the American Library in Paris Book Award, judged by Lauren Groff, Doan Bui, and Sudhir Hazareesingh

"An epic take on the life of Joan of Arc, Chen's Joan reimagines the martyr as a secular, fierce, intelligent young warrior and woman, humanized and ripe for our time."—Parade

"We all know the story of teenage Joan of Arc, but this electrifying novel fleshes her out as a passionate young woman who defied convention (and then some!). A vivid and very real slice of historical fiction that tears along towards her fateful ending."—Good Housekeeping (UK)

"Vivid, visceral and boldly immediate storytelling."—The Telegraph (UK)

"Chen's brilliantly imagined novel breathes new life into this famous tale. Her Joan is a riotous tomboy, a hot-headed adolescent and a decidedly unsaintly soldier – and is all the more inspiring for it. A triumph of historical fiction."—Mail on Sunday (UK)

"Revolutionary . . . Chen masterfully transforms the two-dimensional martyr into a multifaceted woman and warrior."—Booklist (starred review)

"A brilliant exploration of how an otherworldly peasant girl became a leader of violent men and a national icon."—The Guardian (UK)

"This is a beautifully written novel that will have you thinking about this iconic woman in new and complex ways."—Ms.

"Joan by Katherine J. Chen brings one of history's most iconic heroines to life."—The Daily Beast

"Chen does justice to her legend and this will transport and move you."—Glamour (UK)

"What Joan is in this book is a true kickass heroine, and I think Katherine Chen has knocked it out of the park with this one. I absolutely loved it. It comes with the stamp of the greatest of all, Hilary Mantel. That's all you need to know."—John Mitchinson on Monocle on Culture
Free Media Mail shipping on U.S. orders over $75
"Ships from warehouse" books to be shipped: order by Wednesday, 12/6
"Ships from warehouse" books for pickup: order by Tuesday, 12/12