Dear Edward: A Novel (Hardcover)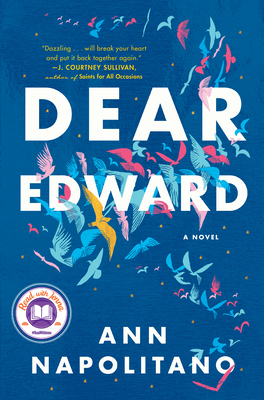 $27.00
Coming soon - PRE-ORDER NOW!
Staff Reviews
---
This book is both heartbreaking and heart-warming.  Because I fly quite a lot I shouldn't want to read about a plane crash and the sole survivor but I could not put this book down! Edward is such a compelling character and his loss so unimaginable and his struggle so real I had to know how he came through this. The parallel story of the passengers on the plane brings us into their lives as well. I came to care about them all. Dear Edward is ultimately an uplifting story of compassion and hope and resilience.
— Rene
Description
---
A twelve-year-old boy struggles with the worst kind of fame—as the sole survivor of a notorious plane crash—in this "stunning novel of courage and connection" (Helen Simonson, bestselling author of Major Pettigrew's Last Stand).
 
"A rich, big-hearted tapestry that leaves no one behind . . . Ann Napolitano brings clear-eyed compassion to every character."—Chloe Benjamin, bestselling author of The Immortalists

What does it mean not just to survive, but to truly live? 

One summer morning, twelve-year-old Edward Adler, his beloved older brother, his parents, and 183 other passengers board a flight in Newark headed for Los Angeles. Among them are a Wall Street wunderkind, a young woman coming to terms with an unexpected pregnancy, an injured veteran returning from Afghanistan, a business tycoon, and a free-spirited woman running away from her controlling husband. Halfway across the country, the plane crashes. Edward is the sole survivor.

Edward's story captures the attention of the nation, but he struggles to find a place in a world without his family. He continues to feel that a part of himself has been left in the sky, forever tied to the plane and all of his fellow passengers. But then he makes an unexpected discovery—one that will lead him to the answers of some of life's most profound questions: When you've lost everything, how do you find the strength to put one foot in front of the other? How do you learn to feel safe again? How do you find meaning in your life?

Dear Edward is at once a transcendent coming-of-age story, a multidimensional portrait of an unforgettable cast of characters, and a breathtaking illustration of all the ways a broken heart learns to love again.

Advance praise for Dear Edward

"Dear Edward made me think, nod in recognition, care about its characters, and cry, and you can't ask more of a novel than that."—Emma Donoghue, New York Times bestselling author of Room

"Weaving past and present into a profoundly beautiful, page-turning story of mystery, loss, and wonder, Dear Edward is a meditation on survival, but more important, it is about carving a life worth living. It is about love and hope and caring for others, and all the transitory moments that bind us together."—Hannah Tinti, author of The Twelve Lives of Samuel Hawley and The Good Thief
About the Author
---
Ann Napolitano is the author of the novels A Good Hard Look and Within Arm's Reach. She is also the associate editor of One Story literary magazine. She received an MFA from New York University and has taught fiction writing at Brooklyn College's MFA program, New York University's School of Continuing and Professional Studies, and Gotham Writers Workshop. She lives in Brooklyn with her husband and two children.
Praise For…
---
"Stunning . . . In this life-affirming tale, the downright unbearable blossoms into a testament to the power of love and grace."—Vogue

"Ann Napolitano's new novel is the best book about a young person I've read since Emma Donoghue's Room, and if there's any justice in the world, it's going to be a phenomenon: outstanding storytelling, great writing, absolutely The Real Deal."—John Boyne, bestselling author of The Heart's Invisible Furies

"Dear Edward isn't just a beautiful novel, clear-eyed and compassionate even as it pulls us into difficult terrain. It's an examination of what makes us human, how we survive in this mysterious world, how we take care of each other. It's the kind of book that forces you to trust that the author, who will break your heart, will also lead you toward something wondrous, something profound. After this brilliant novel, I will follow Ann Napolitano to the ends of the earth."—Kevin Wilson, author of The Family Fang and Nothing to See Here

"This is a stunning novel of courage and connection in the face of unimaginable loss. It's beautifully written, with characters so intensely alive you will hold your breath as they break your heart—an extraordinary read."—Helen Simonson, author of Major Pettigrew's Last Stand

"From its breathtaking premise—a boy is the sole survivor of an airplane crash—to its absolutely rhapsodic finish, Dear Edward is about the persistence of hope, the depth of love, and the unexpected, radiant moments that make up our lives. If I loved this stunning novel any more, I'd have to marry it."—Caroline Leavitt, New York Times bestselling author of Pictures of You and Cruel Beautiful World

"From the first page of this heartwarming and heart-wrenching novel, I was dazzled. Napolitano weaves a story that brims with humanity—with joy and sorrow, love and friendship, survival and triumph, and a cast of unforgettable characters. Dear Edward is a masterpiece that should be at the top of everyone's reading list."—J. Courtney Sullivan, bestselling author of Saints for All Occasions

"I loved Dear Edward so, so much. It made me laugh and weep. So many times I had to stop after reading a paragraph to acknowledge the beauty of Ann Napolitano's writing. In Edward, his friend Shay, and the passengers on the airplane, Napolitano offers unforgettable characters, people you know you will miss after you've turned the book's last page. Magnificent!"—Lily King, author of Euphoria

"With its expert pacing and picture-perfect final page, Dear Edward is a wondrous read. It is a skillful and satisfying examination of not only what it means to survive, but of what it means to truly live."—Booklist (starred review)

"Wonderfully detailed characters . . . The potent prose brings readers close to the complex emotional and psychological fallout after tragedy. . . .  By the end, readers will feel a comforting sense of solace. Napolitano's depiction of the nuances of post-trauma experiences is fearless, compassionate, and insightful."—Publishers Weekly

"Edward's father used mathematics to 'tie together pieces of the universe'; Ann Napolitano uses words to do the same in Dear Edward—a dazzling, tender novel about sorrow and despair, resilience and great love."—Shelf Awareness
 
"Penetrating . . . What makes this narrative so effective is its alternating between the ordinary events unfolding on the flight and the aftermath of the crash. . . . [A] vivid story of one's boy coming of age redirected by tragedy."—Library Journal