Normal People: A Novel (Hardcover)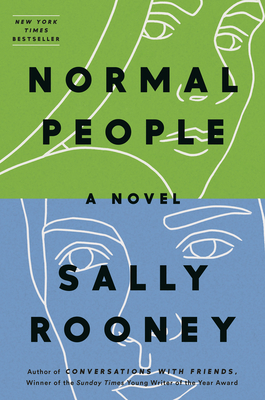 $26.00
Coming Soon - PREORDER NOW!
Staff Reviews
---
Follow a young Irish couple through high school and into college as they repeatedly get together and break up, despite maintaining intense (and confusing) feelings for each other. Rooney perfectly captures the raw and heartrending discomfort of finding real love in a modern age where nonmonagamy and apathy is the status quo. The characters start out oblivious (and frustratingly self-absorbed!), but I promise you will end up rooting for them and relating to them in surprising moments of insight. A unique coming of age story about two complicated people trying to find their place in the world.
— Kiwi
Description
---
Longlisted for the 2018 Man Booker Prize
Winner of Novel of the Year at the An Post Irish Book Awards
Winner of the Costa Novel Award
Longlisted for the Dylan Thomas Prize
Longlisted for the Women's Prize for Fiction
Longlisted for the Rathbones Folio Prize
Longlisted for the Kerry Group Irish Novel of the Year Award


"[Rooney] has been hailed as the first great millennial novelist for her stories of love and late capitalism...[she writes] some of the best dialogue I've read."—The New Yorker

From celebrated author Sally Rooney, "the literary phenomenon of the decade" (The Guardian): a universal story of love, friendship, and growing up

At school Connell and Marianne pretend not to know each other. He's popular and well-adjusted, star of the school football team, while she is lonely, proud, and intensely private. But when Connell comes to pick his mother up from her job at Marianne's house, a strange and indelible connection grows between the two teenagers—one they are determined to conceal.

A year later, they're both studying at Trinity College in Dublin. Marianne has found her feet in a new social world while Connell hangs at the sidelines, shy and uncertain. Throughout their years at university, Marianne and Connell circle one another, straying toward other people and possibilities but always magnetically, irresistibly drawn back together. And as she veers into self-destruction and he begins to search for meaning elsewhere, each must confront how far they are willing to go to save the other.

Sally Rooney brings her brilliant psychological acuity and perfectly spare prose to a story that explores the subtleties of class, the electricity of first love, and the complex entanglements of family and friendship.
About the Author
---
SALLY ROONEY was born in the west of Ireland in 1991. Her work has appeared in The New Yorker, The New York Times, Granta and The London Review of Books. Winner of the Sunday Times Young Writer of the Year Award in 2017, she is the author of Conversations with Friends and the editor of the Irish literary journal The Stinging Fly.
Praise For…
---
Advance praise for Normal People:

"[Rooney] has been hailed as the first great millennial novelist for her stories of love and late capitalism...One of the unusual pleasures of Rooney's novels is watching young women engage in a casual intellectual hooliganism, demolishing every mediocrity that crosses their paths, just for the fun of it…in the process creating some of the best dialogue I've read."—The New Yorker

"I'm transfixed by the way Rooney works, and I'm hardly the only one… like any confident couturier, she's slicing the free flow of words into the perfect shape… She writes about tricky commonplace things (text messages, sex) with a familiarity no one else has."—The Paris Review

"Rooney crafts a devastating story from a series of everyday sorrows by delicately traversing female and male anxieties over sex, class, and popularity. This is a magnificent novel."—Publishers Weekly (starred)

"This brilliantly nuanced second novel fulfills the promise evident in the stunning debut… Rooney is a formidable talent. A major literary achievement."—Library Journal (starred)

"...This superb book more than lives up to the high expectations set for it by Rooney's lauded first novel...Showcasing Rooney's focus and ability in building characterrelationships that are as subtle and infinite as real-life ones, and her perceptive portrayal of class, Normal People gets at the hard work of becoming a person and the near impossibility of knowing if a first love is a true one."—Booklist (starred)

"In outline it's a simple story, but Rooney tells it with bravura intelligence, wit, and delicacy. Rooney's genius lies in her ability to track her characters' subtle shifts in power, both within themselves and in relation to each other… Absolutely enthralling. Read it."—Kirkus (starred)

"Beautifully observed . . . crackles with vivid insight into what it means to be young and in love today."—Esquire

"I went into a tunnel with this book and didn't want to come out. Absolutely engrossing and surprisingly heart-breaking with more depth, subtlety, and insight than any one novel deserves. Young love is a subject of much scorn, but Rooney understands the cataclysmic effects our youth has on the people we become. She has restored not only love's dignity, but also its significance."—Stephanie Danler, author of Sweetbitter 

"Sally Rooney's Normal People is the deeply felt story of a foundational relationship at the margin of friendship and true love, of shame and devotion. This inventive and profound novel proves what great fiction can do--it can open a world at the seams."—Emma Straub, author of Modern Lovers and The Vacationers

"I couldn't put Normal People down—I didn't think I could love it as much as Conversations with Friends, but I did. Sally Rooney is a treasure. I can't wait to see what she does next." —Elif Batuman, author of The Idiot and The Possessed

"This is one of the best novels I have read in years. Sally Rooney understands the complexities of love, its radical intimacy, and how power is always shifting between people, and she tells her story in a way that feels new and old at the same time. It is intelligent, spare and mesmerizing, and it sent me back to an earlier point in my life in such a vivid and real way, reanimating for me with that period of time (first love), which I had thought was lost to me forever, but which felt born again in the form of this book." —Sheila Heti, author of Motherhood and How Should a Person Be?

"Sally Rooney is a master of the literary page-turner. In Normal People, she has once again crafted a complicated love story that's impossible to put down. It's also full of wise observations about class, gender roles and how the past shapes the present. Rooney's novels are populated with characters and situations that feel at once totally familiar and like something we've never seen in fiction before."—J. Courtney Sullivan, author of Saints for All Occasions 

"It is time to take a sharp inhale, people. After the success of Conversations With Friends, Sally Rooney has produced a second novel, Normal People which will be just as successful as it deserves to be: it is superb...[T]he truth is that this novel is about human connection and I found it difficult to disconnect. It is a long time since I cared so much about two characters on a page."—Anne Enright, The Irish Times

"Rooney homes in on what she's best at – describing people, with all their conceits and self-delusions, weaknesses and virtues. She does this with unsparing acuity and extraordinary sensitivity… There's arch humor in her insights too." —The Times (UK)

 "Beautifully observed and profoundly moving, I could scale new heights of hyperbole trying to describe how good this book is, but really, you just need to read it." —The Bookseller (UK)


Praise for Conversations with Friends:

"A writer of rare confidence, with a lucid, exacting style… [O]ne wonderful aspect of Rooney's consistently wonderful novel is the fierce clarity with which she examines the self-delusion that so often festers alongside presumed self-knowledge… But Rooney's natural power is as a psychological portraitist. She is acute and sophisticated about the workings of innocence; the protagonist of this novel about growing up has no idea just how much of it she has left to do."
– The New Yorker

"Rooney has the gift of imbuing everyday life with a sense of high stakes…a novel of delicious frictions."
– New York Magazine

"I love debuts where you just can't believe that it was a debut… Conversations with Friends paints a nuanced, page-turning portrait of a whip-smart university student in the throes of an affair with an older married man."
– Zadie Smith, Elle 

"The dialogue is superb, as are the insights about communicating in the age of electronic devices. Rooney has a magical ability to write scenes of such verisimilitude that even when little happens they're suspenseful."
– Curtis Sittenfeld, The Week

"Sharp, funny, thought-provoking . . . a really great portrait of two young women as they're figuring out how to be adults."
– Celeste Ng, "Late Night with Seth Meyers Podcast" 

"This book. This book. I read it in one day. I hear I'm not alone."
– Sarah Jessica Parker (Instagram)

"The self-deceptions of a new generation are at the core of Sally Rooney's debut, Conversations With Friends (Hogarth), which captures something wonderfully odd-cornered and real in the story of an Irish millennial…"
– Megan O'Grady, Vogue's 10 Best Books of 2017

"[A] bracing, miraculous debut."
– The Millions