Flight of the Puffin (Hardcover)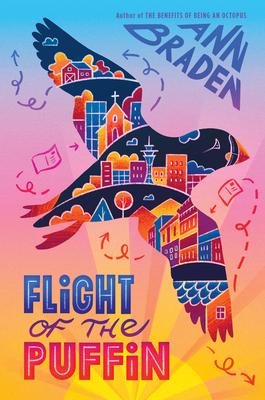 $17.99

Ships from warehouse to store in 3-6 business days
Description
---
One small act of kindness ripples out to connect four kids in this stirring novel by the author of the beloved The Benefits of Being an Octopus.

Libby comes from a long line of bullies. She wants to be different, but sometimes that doesn't work out. To bolster herself, she makes a card with the message You are amazing. That card sets off a chain reaction that ends up making a difference in the lives of some kids who could also use a boost—be it from dealing with bullies, unaccepting families, or the hole that grief leaves. Receiving an encouraging message helps each kid summon up the thing they need most, whether it's bravery, empathy, or understanding. Because it helps them realize they matter—and that they're not flying solo anymore.
About the Author
---
Ann Braden is also the author of The Benefits of Being an Octopus, which was an NPR Best Book of 2018 and is currently on 10 state lists. She founded the Local Love Brigade, which has chapters all over the country sending love postcards to those who are facing hate. She also founded GunSenseVT, a grassroots group championing the common ground on the issue of guns in Vermont, which helped pass landmark gun violence prevention legislation. She is a former middle school teacher, the co-host of the children's book podcast "Lifelines: Books that Bridge the Divide," and a co-organizer of #KidsNeedMentors. Ann lives in southern Vermont with her husband, two children, and two insatiable cats named Boomer and Justice.
Praise For…
---
* "Four narrators spread across small towns in Vermont and the city of Seattle establish meaningful connections in this highly satisfying examination of the power of small, positive actions. . . . Braden takes these disparate threads and weaves them together in a way that will not just appeal to young readers but will lead to an empowering acceptance of themselves. This includes an understanding of how treating those who identify as transgender with respect is just another way of appreciating and celebrating our differences. . . . A great read aloud for classrooms that are dealing with bullying in any form as well as an inspiration for sharing art. The balance between urban and rural as well as popular and uncool promotes the value of building a network in this striking entry."—School Library Connection, starred review

* "The narrative develops each individual's story, gradually providing clues about their homes, families, and schools. . . . Braden sensitively demonstrates how isolating it can be to live with people who, despite good intentions, force their children to fulfill expectations that run counter to their own senses of self. . . . All the characters find ways to encourage each other, be less alone, and connect."—Booklist, starred review
Free Media Mail shipping on U.S. orders over $75
"Ships from warehouse" books to be shipped: order by Wednesday, 12/6
"Ships from warehouse" books for pickup: order by Tuesday, 12/12