A Wing and a Prayer: The Race to Save Our Vanishing Birds (Hardcover)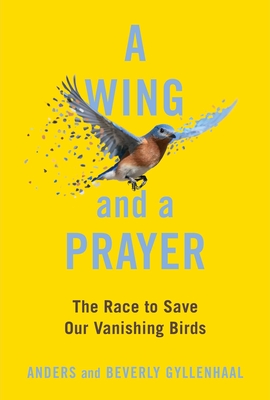 Staff Reviews
---
One-third - more than 30% - of the number of birds alive 50 years ago in North America are gone. 
Vanished. 
Reading this brief, unflinching analysis in A Wing and a Prayer by Anders and Beverly Gyllenhaal stopped me cold. I closed the book and gazed out at my backyard bird feeder. 
Nearly 2.913 billion fewer birds than in the early 1970s - not here to fly, chirp, gobble up insects, pollinate, reproduce, fill their vital role in nature's cycle. Not here to simply live. 
We did this. And we need to answer for it.
Fortunately bird loving journalists Anders and Beverly Gyllenhaal have some suggestions. In this book they take us along in their cross-country quest to find answers: how did this come to be? More importantly, what can we do? They gathered ideas from scientists, conservationists, experts, amateurs and ordinary folks who are passionate about these creatures.
If we listen and act there is hope and, just maybe, we can stop - reverse, even? - this vanishing. 
Read this book and get going.
Now. 
— Belinda
Description
---
A captivating drama from the frontlines of the race to save birds set against the devastating loss of one third of the avian population.

Three years ago, headlines delivered shocking news: nearly three billion birds in North America have vanished over the past fifty years. No species has been spared, from the most delicate jeweled hummingbirds to scrappy black crows, from a rainbow of warblers to common birds such as owls and sparrows.

In a desperate race against time, scientists, conservationists, birders, wildlife officers, and philanthropists are scrambling to halt the collapse of species with bold, experimental, and sometimes risky rescue missions. High in the mountains of Hawaii, biologists are about to release clouds of laboratory-bred mosquitos in a last-ditch attempt to save Hawaii's remaining native forest birds. In Central Florida, researchers have found a way to hatch Florida Grasshopper Sparrows in captivity to rebuild a species down to its last two dozen birds. In the Sierra Nevada Mountains, a team is using artificial intelligence to save the California Spotted Owl. In North Carolina, a scientist is experimenting with genomics borrowed from human medicine to bring the long-extinct Passenger Pigeon back to life.

For the past year, veteran journalists Anders and Beverly Gyllenhaal traveled more than 25,000 miles across the Americas, chronicling costly experiments, contentious politics, and new technologies to save our beloved birds from the brink of extinction. Through this compelling drama, A Wing and a Prayer offers hope and an urgent call to action: Birds are dying at an unprecedented pace. But there are encouraging breakthroughs across the hemisphere and still time to change course, if we act quickly.
About the Author
---
Anders Gyllenhaal was an investigative reporter at The Miami Herald and executive editor at The News & Observer, The Star Tribune (Minneapolis), and The Herald. He also served as the editorial vice president for the McClatchy Company's thirty newsrooms and 2,000 journalists. He served on the Pulitzer Prize board for nine years.

Beverly Gyllenhaal was a reporter, features writer, and food editor at The News & Observer and The Miami Herald. She coauthored a syndicated column that appeared in 100 newspapers around the US and produced three books with nearly half a million copies in print.

Praise For…
---
"The Gyllenhaals are skillful storytellers" – The New York Times

"In this time of massive environmental crises, it is understandable to feel overwhelmed to the point of inertia. We should applaud those who do otherwise, those who do not retreat but fight back against the darkness, as well as those, like the Gyllenhaals, who tell their story." – The Washington Post

"In this five-star journey into our birding history, present and future, the authors make clear that ultimately, it's up to us — you and me — to care and to act. There are plenty of guidebooks for bird identification. This is the guidebook for bird conservation." – Star Tribune

"Written by a pair of gifted writer-photographers and veteran birders, A Wing and a Prayer is in parts a travel adventure, a detective story and a loving tribute to some of the avian world's most colorful species. It's a story not just for birders, but for anyone who cares about preserving the planet in all its natural splendor." – Joby Warrick, Washington Post national reporter and Pulitzer Prize winner

"A soaring achievement, beautiful and compelling. A Wing and a Prayer tells the story of birds of all sorts, many of them threatened by the humans in their world, and it describes what can be done, what must be done, to help." – Susan Page, Washington Bureau chief, USA TODAY, and author of Madam Speaker

"Anders and Beverly Gyllenhaal translate their love of birds into an eloquent plea for conservation. A Wing and a Prayer is at once hopeful and realistic." – Elizabeth Kolbert, Pulitzer Prize winner and New York Times bestselling author of The Sixth Extinction

"A captivating and surprising account of what science is doing to save the winged life on earth, one elusive, eccentric species at a time. If Audubon were alive today, he'd be amazed to learn how once-foregone stories of extinction are being rewritten." – Carl Hiaasen, New York Times bestselling author of Squeeze Me

"Written partially as a travelogue as the authors journeyed thousands of miles by road around the continent, the combination of personal story and scientific reportage is compelling... show[s] how new technologies of radar and radio tracking allow intimate looks at birds' lives, and otherwise delve into the commitment and love that is demonstrated by all the disparate groups working to save the continent's birds." – Booklist (starred review)

"Readers looking for signs of hope will find some in the eclectic measures described, which showcase the remarkable ingenuity of those working to save the birds...Birders will be unsettled, and by the end, inspired." – Publishers Weekly

"This immersive, enthusiastic report, which reads like a seasoned ecologist's travel journal, spotlights key locales on the authors' expansive expedition…Passionate reportage from the world of birds and a cautionary tale for the future of Earth. A no-brainer for birders." – Kirkus Reviews
Free Media Mail shipping on U.S. orders over $50