Countdown bin Laden: The Untold Story of the 247-Day Hunt to Bring the Mastermind of 9/11 to Justice (Chris Wallace's Countdown Series) (Paperback)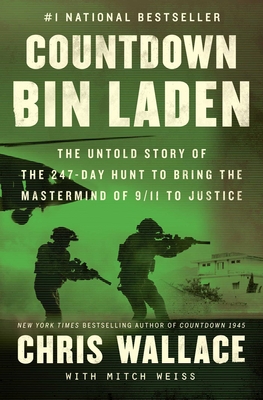 Description
---
#1 NATIONAL BESTSELLER * INSTANT NEW YORK TIMES BESTSELLER

Following Chris Wallace's "riveting" (The New York Times) and "propulsive" (Time) first book Countdown 1945 comes a deeply reported, revelatory, and thrillingly told account of the final months of the hunt for Osama bin Laden.

On August 27, 2010, three CIA officers ask for a private meeting with CIA Director Leon Panetta. During that secret session, they tell Panetta that agents have tracked a courier with deep Al Qaeda ties to a three-story house at the end of a dead-end street in Abbottabad, Pakistan. But they say it's more than a house—it's a heavily protected fortress. No one in the meeting says the name bin Laden. They don't have to. Everyone understands that finally, after nearly a decade, maybe, just maybe, they've found the world's most wanted man.

In Countdown bin Laden, celebrated journalist and anchor of Fox News Sunday Chris Wallace delivers a vivid account of the final eight months of intelligence gathering, national security strategizing, and meticulous military planning that leads to the climactic mission when SEAL Team Six closes in on its target.

The book delivers new information collected from Wallace's in-depth interviews with more than a dozen central figures, including Admiral William H. McRaven—leader of the operation in Pakistan—as well as CIA Director Panetta, Secretary of State Hillary Rodham Clinton, Defense Secretary Robert Gates, National Security Advisor Tom Donilon, and the SEAL Team Six special operator who kills Osama bin Laden. Wallace also brings to life the human elements of this story, talking to families who lost loved ones on 9/11, sharing what relatives of SEAL Team Six went through, and bringing us inside the tense Situation Room during the raid.

Countdown bin Laden is a historical thriller filled with intrigue, cinematic action, and fresh reporting about the race to apprehend and bring to justice the mastermind of the most consequential terrorist attack in American history.
About the Author
---
Chris Wallace anchors a wide-ranging nightly interview program for CNN+. Prior to CNN, Wallace was the anchor of Fox News Sunday for eighteen years where he covered every major political event. Throughout his five decades in broadcasting, he has interviewed numerous US and world leaders, including seven American presidents, and won every major broadcast news award for his reporting, including three Emmy Awards, the duPont-Columbia Silver Baton, and the Peabody Award. He is the New York Times bestselling author of Countdown bin Laden: The Untold Story of the 247-Day Hunt to Bring the Mastermind of 9/11 to Justice and Countdown 1945: The Extraordinary Story of the Atomic Bomb and the 116 Days That Changed the World.

Mitch Weiss is a Pulitzer Prize–winning investigative journalist for the Associated Press, covering subjects ranging from military misconduct, government corruption, and white-collar crimes to the housing meltdown and unsafe medical devices. He is also the critically acclaimed author or coauthor of nine books.
Praise For…
---
"A highly readable, vividly detailed account of one of the most dramatic intelligence victories in recent history . . . The author alternates the focus among Panetta, the key CIA officials who developed the mission plan, and members of the Navy SEAL team that carried it out. The narrative accelerates as it progresses, and Wallace provides the right amount of detail to bring the events to life."
—Kirkus Reviews (starred review)

"Engrossing . . . This is a cinematic overview of one of the CIA's most heralded missions."
—Publishers Weekly

PRAISE FOR COUNTDOWN 1945:

"[A] superb, masterly book . . . Countdown 1945 is filled with fascinating details. . . . On one hand, the book reads like a riveting novel as Wallace reveals the machinations and internal debates among the scientific community to devise a workable atomic bomb as quickly as possible. . . . But Countdown 1945 is also a profound story of decision making at the highest levels—and of pathos."
—Jay Winik, New York Times Book Review

"A compelling and highly readable account of one of the most fateful decisions in American history. Like John Hersey in his book Hiroshima, Wallace and Weiss humanize events too often reduced to technical or diplomatic arcana by telling their story through the lives of individuals. . . . The book moves along at a rapid clip, with colorful anecdotes enlivening the narrative."
—Gregg Herken, The Washington Post

"Vivid and engaging . . . Wallace has made a taut nonfiction thriller out of the dramatic days between Harry S. Truman's succession to the presidency, following Franklin D. Roosevelt's death on April 12, 1945, and the dropping of the first atomic bombs on Hiroshima and Nagasaki less than four months later. . . . This is a deeply absorbing reading experience about the fateful final months of a conflict that deserves to be known in detail to all Americans. It is what a popular history book should be: propulsively paced; well researched in primary sources; and written with sympathetic imagination, bringing people to life in their important moments. . . . The book is deservedly the nonfiction blockbuster of the season."
—James D. Hornfischer, The Wall Street Journal

"Brisk, naturally propulsive . . . But Countdown 1945 also reflects the rigor and fealty to facts that have distinguished Wallace."
—Time

"Propulsive, heart stopping, and impossible to put down . . . The tension in Countdown 1945 is palpable. . . . Wallace and Weiss bring those 116 days of history to life in vivid color, crafting a story as unique as it is horrifying. Their writing is nothing short of phenomenal, a historical tapestry that reads like a carefully curated combination of Stephen King and Stephen Ambrose."
—Steve Leonard, Modern War Institute at West Point

"Everyone knows the outcome, yet Wallace manages to make this carefully researched account of the months before Hiroshima read like a tense thriller."
—Bethanne Patrick, The Washington Post

"Gripping . . . Countdown 1945 is such a good read, crammed with information, fleshed out with vivid anecdotes, and told in a narrative that never flags."
—The Washington Times

"Fox News Sunday host Wallace debuts with a propulsive account of the final months of WWII leading up to atomic bombings of Hiroshima and Nagasaki . . . Wallace, with help from journalist Weiss, writes with verve and an eye for cinematic detail . . . This accessible, evenhanded account serves as an entertaining introduction to one of the most momentous decisions in world history."
—Publishers Weekly

"Entertaining . . . Wallace describes a moment in history when both intense deliberation and decisive leadership were essential. . . . A brisk work of history that weaves together the various factions responsible for the deployment of the first nuclear bombs."
—Kirkus Reviews

"There is no finer journalist in America today than Chris Wallace and no more dramatic story in American history than Truman's decision to drop the atomic bomb. Countdown 1945 moves at a breakneck pace and even though you know the ending, you can't put it down. This is the most exciting book I've read all year."
—Admiral William H. McRaven (U.S. Navy Retired), #1 New York Times bestselling author of Make Your Bed and Sea Stories

"As a reporter and a news anchor, Chris has been at the center of the biggest news stories of the last four decades. He's given perspective and insight when we've needed it most. Now, his same attention to detail fills the pages of Countdown 1945, the story of arguably the most consequential event in the U.S. since the Civil War. It's a stunning piece of work."
—George Clooney

"Countdown 1945 goes beyond our history lessons. It tells moving, personal stories of Americans who played pivotal roles in one of our most important moments as a nation. From scientists at the top of their field, to heroic members of our military, to everyday Americans, it's an incredible story of how our country came together with a determined spirit to end a war and save countless lives."
—Ambassador Nikki Haley, New York Times bestselling author of With All Due Respect: Defending America with Grit and Grace

"Countdown 1945 is a real-life thriller about one of the most important events of the twentieth century. Veteran journalist Chris Wallace takes readers behind the scenes and brings to life the compelling story of the 116 days leading up to Hiroshima. Written like a spy novel, this is a must-read history that will educate and keep you turning the pages. Not to be missed!"
—Daniel Silva, #1 New York Times bestselling author of The New Girl

"Vivid, fast-paced, and wide-ranging, Countdown 1945 is a fine telling of one of the twentieth century's most remarkable tales—how the United States designed, built, delivered, and detonated the first two atomic bombs over Japan."
—Rick Atkinson, #1 New York Times bestselling author of An Army at Dawn and The British Are Coming
Free Media Mail shipping on U.S. orders over $50
Christmas ordering guidelines
"Ships from warehouse" items to be shipped: Order by Monday, 12/5
"Ships from warehouse" items to be picked-up in store: Order by Monday, 12/12
On hand items: We'll pull items in order of orders received, so keep them coming!