Follow Me to Ground: A Novel (Paperback)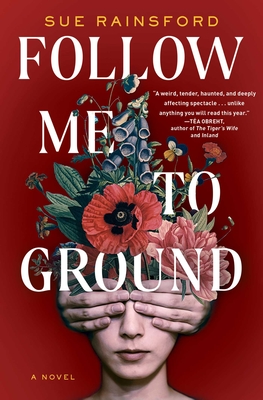 Staff Reviews
---
Ada lives with her father on the edge of town, where The Ground gurgles and heals and kills. They were birthed from The Ground: not quite human, not quite animal, and gifted with the ability to heal townsfolk by singing tunes to their innards. But Ada longs for more. She longs for connection, and once she finds it, she will do anything to hold onto it forever.
Shocking, unsettling, and full of lyrical prose, this is a book I had to finish in one sitting. On the first page, everything feels slightly askew, and Rainsford's world continues twisting and spilling over the edges of normalcy until the very last page. A dark, erotic, folklore-infused meditation on loneliness, power, and desire.
— Kiwi
Description
---
One of Literary Hub's Favorite Books of the Year

"Seethingly assured…like all the best horror, [Follow Me to Ground] is an impressive balancing act between judicious withholding and unnerving reveals." —The Guardian

A "legitimately frightening" (The New York Times Book Review) debut novel about an otherworldly young woman, her father, and her lover that culminates in a shocking moment of betrayal.

"You've never encountered a father-daughter story like Rainsford's slim debut" (Entertainment Weekly). Ada and her father, touched by the power to heal illness, live on the edge of a village where they help sick locals—or "Cures"—by cracking open their damaged bodies or temporarily burying them in the reviving, dangerous Ground nearby. Ada, a being both more and less than human, is mostly uninterested in the Cures, until she meets a man named Samson—and they quickly strike up an affair. Soon, Ada is torn between her old way of life and new possibilities with her lover, and eventually she comes to a decision that will forever change Samson, the town, and the Ground itself.

"Visceral in its descriptions…this unworldly story is a well-crafted and eerie exploration of desire…beautifully intoxicating" (Shelf Awareness). In Ada, award-winning author Sue Rainsford has created an utterly bewitching heroine, one who challenges conventional ideas of womanhood and the secrets of the body. "A triumph of imagination and myth-bending…equal parts beauty and horror [Follow Me to Ground is] unlike anything you will read this year" (Téa Obreht).
About the Author
---
Sue Rainsford is a fiction and arts writer based in Dublin. A graduate of Trinity College, she completed her MFA in writing and literature at Bennington College, Vermont. She is a recipient of the VAI/DCC Critical Writing Award, the Arts Council Literature Bursary Award, and a MacDowell Colony Fellowship. When it was first published, Follow Me to Ground won the Kate O'Brien Award and was longlisted for the Desmond Elliott Prize and the Republic of Consciousness Award.
Praise For…
---
Palm Beach Post, Buzzfeed, and LitHub's Most Anticipated of 2020
One of AV Club's New Books to Read This January
A Daily Break January Latest Read
One of Tor.com's All New Genre-Bending Books Coming Out in January!

"Refreshingly, the novel disregards the predilections of contemporary literary fiction and instead veers toward allegory…What's best in the novel is its idiosyncratic vision of the meaning of girlhood and first love…The tale pulses with images of opening and entering, into the ground, into patients' bodies, in sexual union. The suggestion is that a teenage crush is an experience of haunting and being haunted, and that maturity comes through a process of utter, ruinous self-absorption."
—New York Times Book Review

"Sue Rainsford's fresh and exciting first novel, Follow Me to Ground, reads like a dark fairy tale…a pleasure to read. Seeing the world from Ada's perspective is intoxicating, and as she grows in her power, we feel lucky to be taken along for the ride. With language that's visceral and jarringly beautiful, Rainsford has created a mysterious world that left me wanting to hear more tales of the strange healers and their trusting Cures."
—BookPage

"Part fairytale, part myth, with a touch of horror and a heavy dose of magical realism, [Follow Me to Ground] is unsettling in the best way. Ada's otherness allows us to see human illness at a remove and to consider what it might mean to be truly healed."
—Electric Literature

"In this serenely haunting tale, told in prose at once lyrical and unsettling, a lonely inhuman girl running a magical curing business with her father searches for a way to come alive…Visceral in its descriptions and carried by a spellbinding first-person narrative intertwined with lore from fearful Cures, this unworldly story is a well-crafted and eerie exploration of desire… beautifully intoxicating,"
—Shelf Awareness

"As the world around us becomes more frightening, we're seeing fiction reflect those terrors, becoming more expansive in its speculative, magical, and often apocalyptic themes; Sue Rainsford's debut falls directly into this camp. It's as much about our difficulty connecting with others as it is about family, community, and compassion... Follow Me to the Ground is deeply rooted in human flesh, bodies, and transformation."
—Thrillist, The Best Books of 2020 (So Far)

"Rainsford's protagonists, beings of the "Ground," live in isolation in the woods, tolerated by nearby villagers for their magical healing powers. Underworld elements keep creeping into this moody fairy tale, but a young woman's liberation is the main, intriguing attraction."
—Entertainment Weekly, 20 must-read books for January

"Rainsford draws readers into her arresting and disconcerting tale… "Follow Me to Ground" is a haunting and puzzling story that is distinctly unafraid to poke about the horror that can exist within an individual… readers will quickly fall entranced by Rainsford's earthy tale."
—TimaMarie Craven, The Ridgefield Press

"This wildly inventive story reads like a centuries' old myth you can't believe you've never heard before, and [Rainsford's] prose will hold you captive like a spider's thread."
—LitHub, Most Anticipated of 2020

"Follow Me to Ground is a haunting, intoxicating debut that establishes its author as one to watch in the future."
—BookBrowse

Named a Best Book of 2019 by The Guardian and The Irish Times

"An astonishing debut heralding the career of an exciting new writer. Strange, lyrical, and arresting, this novel will draw readers into its extraordinary spell."
—Kirkus, starred review

"In this exhilaratingly original work, lyrical prose gives voice to the strange and alluring Ada, whose spellbinding account alternates with the Cures' testimonials. Seductive and finally horrific; highly recommended."
—Library Journal, starred review

"Brimming with dark folklore and underworld energy, Rainsford's stellar debut features a memorable heroine chafing against her monstrous isolation…Rainsford excels in describing the grotesque beauty of…alternative medicine in which the humming healers feel their "way to the pitch of [the patient's] hurt"…This is a subtle, unsettling novel in which desire is an ineradicable sickness that can be preferable to health."
—Publishers Weekly, starred review

"Haunting ... With an evocative novel bending fantasy into a universe of subtle horror and bodies cracking open to be healed, Rainsford pulls the reader into a frightening, tangible world of monstrosity, humanity, and healing."
—Booklist

"Like all the best horror, it's an impressive balancing act between judicious withholding and unnerving reveals: you don't want to go into it knowing too much ... Always singularly and entirely itself."
—The Guardian

"Beautiful and terrifying."
—The Sunday Times

"Sue Rainsford's Follow Me to Ground is a triumph of imagination and myth-bending—a weird, tender, haunted and deeply affecting spectacle, equal parts beauty and horror, and unlike anything you will read this year."
—Téa Obreht, author of The Tiger's Wife and Inland

"A tangled, gnarled, wonderfully original, strange, beautiful beast of a book. I will be reading everything Rainsford ever writes."
—Daisy Johnson, author of Everything Under

"Sue Rainsford has written a gorgeous and unsettling novel. Follow Me To Ground is a fresh and primal exploration of bodies and healing, of the fight between one's calling and most ardent desires. A stunningly original debut."
—Megan Mayhew Bergman, author of Birds of a Lesser Paradise and Almost Famous Women

"Sue Rainsford's Follow Me to Ground carries both the great force of myth and the clarity of song. In Ada, her father, and in their shape-shifting, unforgettable journey, we are given a merciless chronicle of this bright, wounded world. This is a novel that burns beautifully, that dives to levels we are blind to, and soars."
—Paul Yoon, author of Once the Shore and The Mountain

"Sue Rainsford's talent is fierce, palpable, and hypnotic … a dazzlingly troubling dream."
—Colin Barrett, author of Young Skins