A Witch in Time (Halflife Chronicles #5) (Mass Market)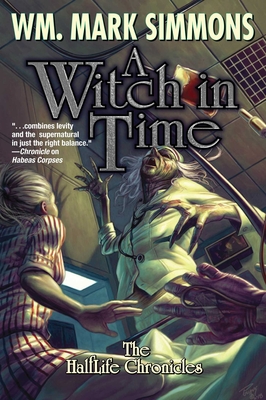 Other Books in Series
This is book number 5 in the Halflife Chronicles series.
Description
---
THE HALFLIFE CHRONICLES ARE BACK! Smart-talking half-vampire Christopher Cséjthe must face down the forces of darkness in the return of Wm. Mark Simmon's Halflife Chronicles.

Years back, a blood transfusion with a member of the undead left Christopher Cséjthe a half-vampire. Since that time, he's gone mano y monster with zombies, werewolves, master vampires, and creatures from the Cthulhu Lagoon—not to mention an immortal Nazi, an ancient Babylonian demon, a six-thousand-year-old necromancer, voodoo queen Marie Laveau, the mad monk Rasputin, and a couple of the Great Old Ones.

As founder of After Dark Investigations, he's seen his fair share of the seedy side of the supernatural world. He's saved New Orleans from total destruction in the past. And lost his family to another temporal realm.

To add insult to injury, someone cut the gas line of his SUV and then ran over him with a semi-truck while he tried to get a tow. But this is the third time Chris has died.

It's old hat at this point for him. Now, awakened in a world he doesn't quite recognize, he'll have to use his wits to once again keep the supernatural world at bay. INTERPOL is interested in some of his associations with Vlad Drakul's grandson—better known as Dracula—and a trio of witches from Greek myth want him dead—and for good this time.

Bad enough. But what's worse is that the IRS is looking into his tax returns and not at all liking what they find. Now that's really terrifying.

About A Witch in Time:
". . . a snappy, snarky, and surprisingly emotional grand finale that blends characters from weird fiction, gothic tales, and mythology into one fun, if crowded, universe. . . .Though the tone is light and comically cynical, Simmons doesn't downplay the gravity of the history in his tale, making this a tense and gripping story that is sure to please series fans."—Publishers Weekly

About the Halflife Chronicles:
"[O]ne of those rare novels that combine levity and the supernatural in just the right balance."—Chronicle on Habeas Corpses.

Praise for Wm. Mark Simmons:
"A high-tech heroic fantasy full of adventure, puns, and damn good reading. Well thought out."—Pulsar

"Frequently fun . . . "—Publishers Weekly

"A nonstop romp through a complex and captivating world! Highly recommended!"—K D Wentworth
About the Author
---
Before he turned his attention to Science Fiction, Wm. Mark Simmons was winning awards for his writing, first as a newspaper journalist and later as a broadcast copywriter. His first book was a finalist for the Compton Crook Award and made the LOCUS Best List in 1991. When he isn't writing, Mark is in front of the camera or microphone having worked in television and now radio where his is the morning voice for Radio Kansas and can be heard throughout half of the Sunflower State.
We will be open on Memorial Day from 10 AM until 6 PM.
Free Media Mail shipping on U.S. orders over $50