Fishnet (Hardcover)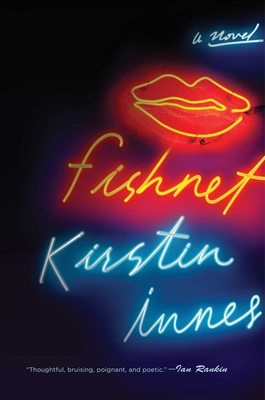 Staff Reviews
---
Its lurid neon cover art gives it away, so you may think you know what you're in for.  FISHNET is deeper than that image, though. Rona seeks her disappeared sister and descends into the world of sex-for-pay in the search. Surprised is she to find vast layers of complexity, marketing genius, deep friendship and self-empowerment amidst all the visible sleaze. The plot is great and I won't give it away. There's a great deal of talk about sex herein, all very well-written and not a great turn-on. Which is the point; the business is a society unto itself, as Rona becomes aware. Oh, it's Scottish as all get-out, if that's your thing.
— Matt
Description
---
A "thoughtful, bruising, poignant, and poetic" (Ian Rankin) debut in which a woman's search for her missing sister leads her into the world of contemporary sex work.

Rona Leonard was only twenty-years-old when she walked out of her sister Fiona's flat and disappeared.

Six years later—worn down by a tedious job, childcare, and an aching absence in her life—Fiona's mundane existence is blown apart by the revelation that Rona had been working as a prostitute before she vanished. Driven to discover the truth, Fiona embarks on an obsessive quest to investigate the sex industry that claimed her sister. However, as she is drawn into this complex world, Fiona finds herself seduced by the power it offers women in a society determined to see them only as victims.

In bold, unflinching prose, Fishnet offers a clear-eyed look at the lives of sex workers, questioning our perception of contemporary femininity and challenging assumptions about power, vulnerability, and choice.
About the Author
---
Kirstin Innes is an award-winning writer, journalist and arts worker living in the west of Scotland. She founded the Glasgow literary salon Words Per Minute, and has had short stories published in a number of anthologies and commissioned by BBC Radio 4. Kirstin has won the Allen Wright Award for Excellence in Arts Journalism twice.
Praise For…
---
"Fishnet contains many more instances of gritty brilliance following its dramatic start… Fishnet is one of those rare and refreshing crime novels in which the victim isn't victimized, and where her life and community are as important as the mystery of her disappearance."
—New York Times Book Review

"Thoughtful, bruising, poignant, and poetic."
—Ian Rankin

"Fishnet is a determined debut from an inimitable talent. Kirstin Innes takes the reader on a remarkable, authentic journey into the contemporary realm of prostitution."
—Lisa O'Donnell, nationally bestselling author of The Death of Bees

"Bold, sensual, and unflinching, Fishnet lays bare a world too often misjudged and misunderstood. Kirstin Innes writes with courage, warmth, and real insight. This is a hugely enjoyable and important book."
—Emma Jane Unsworth, award-winning author of Animals

"It's dark and provocative, and it holds its gaze steady on the sex industry. Here's a new writer with huge talents and promise."
—Sarah Hall, author of The Electric Michelangelo, a Man Booker Prize finalist

"Innes strikes sparks by rubbing a clandestine world (here, prostitution in Scotland) against the everyday. Unsettling and seductive, this tale of two sisters is moving, gripping, and unforgettable."
—The Independent

"[Fishnet] asks difficult and brave questions about prostitution . . . Innes presents convincing characters, living believable lives, and so she is able to dig deeper into these emotive issues than facts and stats alone can hope to go."
—The Guardian

"It's extremely rare for a novel actually to change public attitudes, but Fishnet already has."
—The Herald

"[S]et to be a massive hit and deserves every ounce of that success."
—The Huffington Post