So Tall It Ends in Heaven: Poems (Paperback)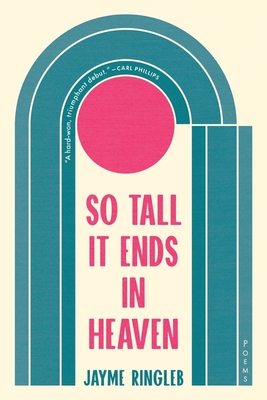 Description
---
Lambda Literary's Most Anticipated September LGBTQIA+ Literature
"An intimate, assured debut."—New York Times Book Review
With lush and deeply intimate language, Jayme Ringleb's debut collection So Tall It Ends in Heaven explores sexuality, estrangement, and the distances we travel for love.
Following the end of a marriage, So Tall It Ends in Heaven's queer southern speaker tries to restore a relationship with his father. His father lives across an ocean, but more keeps them apart than just that: the father rejected his son long ago after learning that his son is gay. The poems search for answers across the United States and Europe, in and out of historical imagination, as the speaker struggles to separate his understanding of devotion and belonging from the constant losses in his life. Drawing from—and subverting—the formal traditions of love poems, parables, and elegies, the collection claims a vital space for one's own solace. "Nobody will love you / like this poem does," the speaker says; "Tell this poem / what you want. // Anything."
In turns that are ruminative, funny, and tender, Jayme Ringleb's debut collection questions what and whom one lets go of by coming out—can love, in all its complexities, ever be uncoupled from grief?
About the Author
---
Jayme Ringleb is a queer writer raised in the southern United States and northern Italy. Jayme's poems have appeared recently in Poetry, Kenyon Review, Gulf Coast, and Ploughshares. An assistant professor of English at Meredith College, Jayme lives in Raleigh, North Carolina.
Praise For…
---
An intimate, assured debut.
— The New York Times Book Review

Remarkable. . . . The poems exemplify what it means to be vulnerable without being pitiful, to be flawed without being consumed by guilt or self-loathing. . . . they are sure to to be a mainstay in American poetics.
— The Poetry Question

Unforgettable. . . . Asks readers to look inward and consider what they truly sacrifice when they live honestly. . . . but more profoundly, asks them to what lengths they will go in order to heal.
— Southern Review of Books

Startles with its poignancy and beauty.
— Largehearted Boy

It may not be 'always true that a good son // dies and a bad one punishes his father by living,' but what if that's how it feels, and you're that son? In the wrenchingly tender poems of So Tall It Ends in Heaven, Jayme Ringleb speaks from the living wound that thrives in the shadow of childhood abandonment; the poems trace the edges of that wound as Ringleb contemplates what it means to have equated a father with God, and to have defined oneself according to the wishes of another: 'But I thought want was / wooden, simple: whatever He wanted, that's what I was.' As they take us through the harrowing 'garden / of swaying fathers,' Ringleb's poems at once confront and enact how the hurt that haunts us has everything to do with how we grow up to love, if we can at all, someone else: brokenly, tentatively, and as if our lives depended on it – as I believe they do. These poems convince me of that. This is a hard-won, triumphant debut.

— Carl Phillips, author of Then the War

Countless very good first books of poetry enter the world each year, but only a fraction of a fraction are as mature, assured, or ambitiously realized as Jayme Ringleb's So Tall It Ends in Heaven. A peacock wails, the devil taps at the window, and young boys anoint each other in charcoal. Ringleb possesses that rarest triumvirate fluency of ear, heart, and mind that you find in the great poets of any era, any place—one poem here ends, "We sleep / in a snarl, like lovers found in snow." Another, "It's almost a heaven, / neglecting you." It's thrilling to discover a book you know you'll revisit for the rest of your life. These poems are better than good—they're undeniable.

— Kaveh Akbar, author of Pilgrim Bell

Jayme Ringleb is a master of the recursive, of writing that perfects the art of reach and return. These hushed and impeccable poems venture out, toward the figure of the father, toward the figure of the lover, toward the figure of the wayward man. And then they come back, bearing haunting revelations and a beauty that cuts deep. So Tall It Ends in Heaven is a tremendous book.

— Natalie Shapero, author of Popular Longing

In his brilliant poetry debut, So Tall It Ends in Heaven, Jayme Ringleb flawlessly renders both the macro and the micro wonders of the universe. He shows us the glory of galaxies seen through a Walmart telescope and the magic of fungus gnats appearing as if from thin air. Some poems in this collection read like parables, others, like prayers, and each one urges us to recognize the importance of mindful solitude and the healing that comes from letting go.

— Paige Lewis, author of Space Struck
Free Media Mail shipping on U.S. orders over $75
"Ships from warehouse" books to be shipped: order by Wednesday, 12/6
"Ships from warehouse" books for pickup: order by Tuesday, 12/12