Asperfell (Paperback)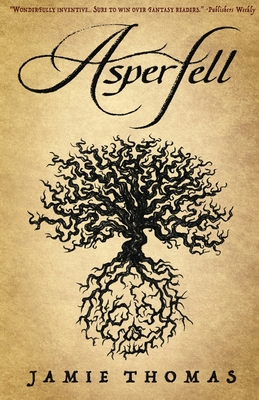 Staff Reviews
---
"For fans of Jane Austen who always wished she'd dabbled in blood magic"? Sign me up.
Regency isn't quite the right description for the historical-ish setting; it feels more like a Gothic Early Modern fantasy than a Regency novel with magic. (But in spite of its horror elements, grimdark it is NOT, and I couldn't be happier.) Asperfell manages to bring in politics, supernatural terror, magic lessons, murder mystery, romance.
The prison itself is a fascinating place, and the worldbuilding of its lore and culture are wonderfully executed. What kind of world would these people create for themselves, having been banished from their home world with no hope of escape? Especially when they can all do magic?
This is the first time in a long time that I have not wanted a book to end, so immersed was I in the world and so attached to the characters. The writing flows beautifully, I never found the pace lacking, and major turning points are foreshadowed just enough that you can see what is coming next without being disappointed that the characters don't. I laughed, I gasped, and at least once I felt like I was punched in the gut. It's going to be hard to wait until next year for the next instalment - I am eager to return to this world and our ragtag band of heroes.
(This is an adult fantasy title, per the author, but there is definitely crossover appeal for YA readers.)
— Kaley
Description
---
"Wonderfully inventive... Sure to win over fantasy readers." - Publishers Weekly (starred review)

Only the darkest and most dangerous of Mages are sentenced to pass through the gate to Asperfell.

Not one has ever returned.

Never did Briony dream she might set foot in the otherworldly prison of Asperfell. She was, after all, neither Mage nor criminal. She was simply her father's little whirlwind—fingers smudged with ink, dresses caked with mud—forever lost in a book or the spirit-haunted woods surrounding her family's country estate.

But Briony always had a knack for showing up where she was least expected.

Only by braving the gate of Asperfell could Briony hope to find the true heir to the throne of Tiralaen and save her kingdom from civil war. And so, she plunges into a world of caged madmen and demented spirits, of dark magic and cryptic whispers... and of a bleak and broken prince with no interest in being rescued.

Hauntingly beautiful and lavishly told, Asperfell is a must-read for fans of Jane Austen who always wished she'd dabbled in blood magic.
About the Author
---
Jamie Thomas began crafting stories in the fourth grade with a tale of a brother and sister who accidentally bring the birds on their hotel wallpaper to life. Even though she ended with the cliched "It was all a dream" gimmick, she still won a regional young writers competition that year, thus beginning a lifelong love affair with the written word. A certified Language Arts teacher in the state of Washington, Jamie holds a Master's degree in English Education and did her graduate research in the area of gender equality in high school literary curriculum. Jamie is an avid lover of Victorian novels and poetry, Gothic Romanticism, and feminist literature, as well as epic female-led fantasy and historical fiction. Jamie aims to smash the patriarchy one novel at a time, creating characters and worlds that inspire, empower, and elevate women. Previously, Jamie studied opera and received her formal training at the University of Montana and the San Francisco Conservatory of Music, and she still enjoys performing occasionally, as well as teaching vocal technique. She lives in Wenatchee, Washington, with her husband, daughter, two enormous dogs, and two mischievous cats. In July 2019, Jamie signed with Uproar Books, a new publisher of science fiction and epic fantasy novels. Asperfell, Jamie's debut novel, will be released in fall 2019
Praise For…
---
"The wonderfully inventive first installment in Thomas's debut trilogy winningly combines the comedy of manners found in Regency romances with the high spirits of magical school adventure fantasies. […] The charming characters, understated romance that simmers between Briony and Elyan, and easily graspable politics are all well-rendered, but the true star here is the strange, mystical setting of Asperfell. This promising adventure has crossover YA appeal and is sure to win over fantasy readers." -Publishers Weekly