Displaced (Paperback)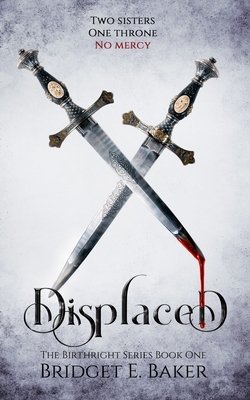 $21.99

Ships from warehouse to store in 1-5 business days
Description
---
For fans of Victoria Aveyard's Red Queen, Sarah J. Maas' A Court of Thorns and Roses, and Tahereh Mafi's Shatter Me, Bridget E. Baker begins a saga of shocking truths, deadly intrigue, violent battle, and sisterly betrayal.
My mom should have killed me the day I was born.
Being a twin complicates the Evian line of succession, but Chancery Alamecha is fine letting Judica inherit the throne. After all, she's the stronger sister-the merciless fighter, the ruthless politician, and the groomed heir. But something unexpected happens when Chancery tries on her mother's staridium ring, forcing her into a role that she never wanted: the prophesied queen who will prevent the destruction of Earth.
Now I have to kill my sister.
Judica, enraged by this turn of events, vows to do anything to reclaim her rightful place as empress. Including challenging Chancery to a battle to the death. While Chancery is away training, she gets a taste of the human world, where she can do whatever she wants without family obligations. Now torn between a life she was born into and one that makes her happy, she must confront her treacherous sister-or cause the end of the world.
Displaced presents a unique fantasy world that exists within the layers of modern day earth. Humans have no idea that evians, super humans with perfect DNA that hasn't yet broken down by repeated replications, secretly rule the world. Displaced is X-Men meets Game of Thrones with a compelling romantic subplot that develops over the course of the series.
What are people saying about Displaced?
It was a finalist in the Whitney awards and Publisher's Weekly BookLife Prize (scoring a 9.25/10 ) The audiobook is a finalist in the SOVAS, alongside Nora Roberts. . .
Kirkus:
The notoriously stingy Kirkus called Displaced, "a fast moving, engaging tale in what promises to be an epic fantasy romance series." Check out their full review here: https: //www.kirkusreviews.com/book-reviews/bridget-e-baker/battle-song/