Jack and Barry (Paperback)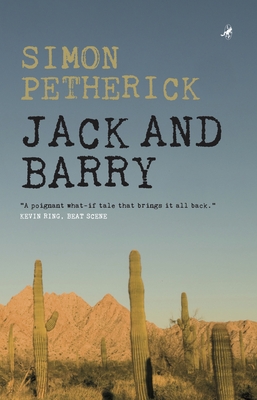 $14.95

Ships from warehouse to store in 3-6 business days
Staff Reviews
---
Imagine: Late 1964, somewhere along a dusty Arizona highway – Driving home as he contemplated his future after a failed campaign for the Presidency of the United States – Barry Goldwater, Senator from Arizona and early champion of modern day Republican Conservatism, looked up and saw a lonely figure ambling along the highway. A spur of the moment decision led Goldwater to pull up alongside the stranger and offer him a lift.
Although grateful, the stranger said little. It wasn't rudeness – simply, a lifetime of dealing with his own inner demons had left him ill equipped to deal with the world at large. Still, Jack Kerouac continued to search for a place where he would find a measure of peace.
From there, these two cultural icons crisscrossed each other's paths as they sought to re-define themselves while seeking clarification of their own ideals, hopes, and dreams.
Admittedly, this is a most unusual premise for a novel but Petherick succeeds in drawing the reader into a world that hinges on a simple question: What if?
— Bud
Description
---
"A poignant what-if tale that brings it all back." KEVIN RING, BEAT SCENEIt's December 1964 in Paradise Valley, Arizona. Republican Senator Barry Goldwater, who has just lost the Presidential election to Lyndon B Johnson, is driving alone one evening back to the house he shares with his wife, Peggy. On one side of the road, he sees a figure trudging back towards town and he stops to offer him a lift.
So begins a highly unusual and emotional fictional friendship between Goldwater and the author, Jack Kerouac.
Over the course of the next two days, the two men engage in a strange, wary exploration of each other's lives: one, an ebullient but bruised political animal; the other, a weary and almost defeated literary icon whose totemic novel, On The Road, was first published seven years before.
Such an unlikely pairing brings about a soulful exploration of man's ambition and the bitter fruit it can deliver, set against the dramatic mountainous landscape of 1960s Arizona.
About the Author
---
Simon Petherick is the author of four novels -- The Last Good Man, The Damnation Of Peter Pan, English Arcadia and Like Fire Unbound -- as well as a number of non-fiction titles and several filmscripts. He originally worked in London as a government writer at the UK's Central Office of Information and subsequently worked in both Europe and the Baltic States as a communications specialist. He has spent time in the United States, particularly in the southwestern states of Arizona and California. He currently lives in London.
Free Media Mail shipping on U.S. orders over $75