Pirates on the Bay (Virginia Mysteries #10) (Paperback)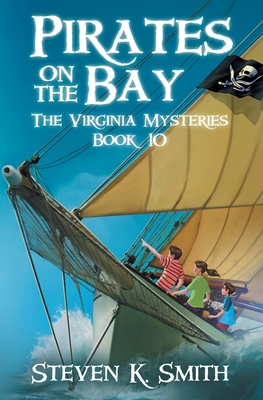 $10.99

Ships from warehouse to store in 3-6 business days
(NOTE: This book cannot be returned and may not be eligible for discounts.)
Other Books in Series
This is book number 10 in the Virginia Mysteries series.
Description
---
In the Golden Age of Piracy, none was more dreaded than Blackbeard.
Sam, Derek, and Caitlin head for a week's vacation at Virginia Beach, where three hundred years ago, pirates sailed the waters off the Atlantic Coast. As the kids explore the beach, they find suspicious activity from the neighboring military base that points to the discovery of a historic shipwreck-maybe even lost pirate treasure
When they meet a mysterious stranger named One-Eyed Jack, they're captivated by the tale of Edward Teach, better known as the notorious pirate Blackbeard. Legend says he may have left valuable plunder buried in the nearby dunes before his final battle and violent death. Could the treasure still be out there, waiting to be discovered?
When the clues lead them on a perilous trip across the Chesapeake Bay, danger lurks at every turn. Will they find a hidden bounty, or will competing treasure seekers, or even Blackbeard's ghost, send them to a watery grave at the bottom of the sea?
Pirates on the Bay is the tenth book in The Virginia Mysteries series, but it can easily be read as a standalone. The story is the perfect complement to social studies units, field trips, and family vacations related to Virginia Beach, First Landing State Park, Cape Henry Lighthouse, Colonial America, and piracy of the early 1700s.
If you enjoy mystery and adventure like the Hardy Boys, Nancy Drew, Magic Tree House, or National Treasure, you'll love author Steven K. Smith's exciting middle-grade series. The stories are modern-day fictional mysteries with twists of real locations and events from history. These fast-paced books are popular with both boys and girls ages 7-12, appealing to even reluctant readers
The Virginia Mysteries Series
Book 1 - Summer of the Woods
Book 2 - Mystery on Church Hill
Book 3 - Ghosts of Belle Isle
Book 4 - Secret of the Staircase
Book 5 - Midnight at the Mansion
Book 6 - Shadows at Jamestown
Book 7 - Spies at Mount Vernon
Book 8 - Escape from Monticello
Book 9 - Pictures at the Protest
Book 10 - Pirates on the Bay
Brother Wars
Cabin Eleven
The Big Apple
The Missing
The Recruit
The Bridge
Free Media Mail shipping on U.S. orders over $75