Morna's Legacy: Books 1, 2, 2.5, & 3: Scottish, Time Travel Romances (Hardcover)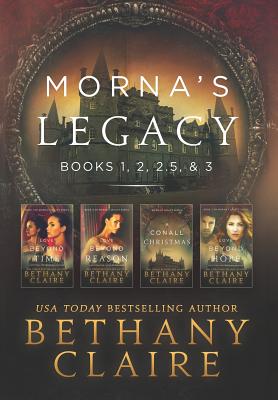 $36.99

Ships from warehouse to store in 1-5 business days
Description
---
Love Beyond Time (Book 1):

Nearly 400 years ago, the Conall clan and their people were murdered, their castle burned to the ground. In centuries following, archaeologists searched the ruins looking for any evidence of those responsible. Efforts were fruitless until a spell put in place by an ancient Conall ancestor finally began to work its magic...

When Bri accompanies her archaeologist mother on a dig in Scotland, they discover a spell room below the castle ruins, and Bri is transported back in time and suddenly married to the castle's ill-fated Laird. She must work to change the fate of his people, all while trying to find a way to return to her century, but Bri finds herself falling in love with her new husband. If she finds a spell to bring her home, will she use it? If she stays, will it mean her own death as well?
Love Beyond Reason (Book 2):

Arran Conall lives with the consequences of his foolishness daily. He had no way to know that his beloved would fall prey to ancient magic. The only woman to ever give pause to his philandering ways lives centuries ahead of him while holding on to his heart. Now, he must try to live without her. His love for Blaire haunts him. With every breath, he prays that she will be able to feel his love across time...

Born in the 17th century, Blaire MacChristy lives each day adjusting to the challenges of modern life. Magic brought her here, but heartbreak keeps her from using magic to travel back to her home. When visitors from her past arrive asking her to return to the life she'd known before, Blaire takes a chance on love. Will fate find a way to mend their broken hearts? If it does, will they be able to stop the darkness that is coming for them both?

A Conall Christmas: A Novella (Book 2.5):

Christmas is approaching, and Adelle is determined to make it the best one Conall Castle has ever seen, but loneliness haunts her. Love for her daughter sent her into the past, but she'd not expected the isolation she would feel. She finds her current age seems much older in the 17th century and resigns herself to the fact that she will remain single for the rest of her days. At least until an unexpected visitor arrives.

Hew has spent the last twenty years all alone, only leaving his home once a year to pay homage to the wife he lost long ago. When a storm causes him to seek shelter at Conall Castle, he meets the first lass since his beloved Mae to make his heart flutter once again. Can he release himself from his past and allow another love in his life? If he does, will his love be returned?

Love Beyond Hope (Book 3):

Mitsy is in serious need of a distraction. With the ink still drying on her divorce papers, she flies to Scotland to forget about her own problems and help her best friend re-enter reality. She knows Bri's claims that she is able to travel back in time and is currently living in the year 1647 are a lie, but Mitsy falls prey to the same magic and is forced to believe the impossible.

Few people understand her fiery personality in the 17th century, but she finds her match in Baodan. The more time she spends with him, the harder she falls, but a dark secret from his past holds him back. Mitsy works to uncover the truth in the hopes that resolution will free him. But the truth is darker than she expects, and it threatens to destroy them both.
Other collections in this series:
Morna's Legacy: Books 1, 2, 2.5 & 3
Morna's Legacy: Books 4, 4.5 & 5
Morna's Legacy: Books 6, 7 & 7.5
Morna's Legacy: Books 8, 8.5 & 9