We are offering FREE media mail shipping on books. We are open from 10am-7pm Monday through Saturday and 10am-6pm Sunday. Phones may not be answered due to a high volume of calls.
Savage (Dragonrider Legacy) (Paperback)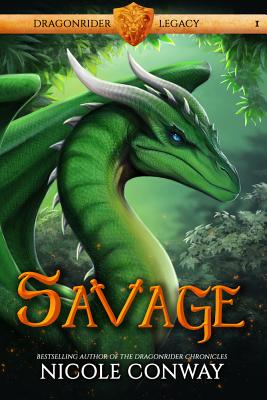 Description
---
Savage begins the Dragonrider Legacy series, a thrilling companion to the international bestselling Dragonrider Chronicles.

Never send a hero to do a monster's job.

Forty years have passed since Jaevid Broadfeather brought peace to Maldobar and Luntharda. But that fragile truce will be tested as darkness gathers on the horizon. The vicious armies of the Tibran Empire have crossed the far seas and are threatening to destroy Maldobar completely. Not even the dragonriders can match the Tibran war machines. And after an attempt to awaken Jaevid from his divine sleep fails, the fate of Maldobar is looking grim.

Reigh has never known what it means to be a normal human. Raised amongst the gray elves in the wild jungle of Luntharda, he's tried everything to fit in. But the dark power within him is bursting at the seams—refusing to be silenced. And while his adoptive father, Kiran, insists this power must be kept secret, Reigh knows he's running out of time.

As Maldobar burns, the world is desperate for a new hero. Destiny has called, and one boy will rise to answer.
About the Author
---
Nicole Conway is a former freelance graphic artist for promotional companies and is now a full-time writer. She enjoys hiking, camping, shopping, cooking, and spending time with her family and friends. She is the author of The Dragonrider Chronicles. She lives in Valdosta, Georgia.
Praise For…
---
"Fifteen-year old Reigh, a human boy raised in an elven world, has never known what it feels like to belong. In his jungle home of Luntharda, the gray elf kingdom, he works with his adoptive father, Kiran, as a healer. But Reigh also carries a secret: there's a powerful force within him that he is unable not only to understand, but also to control. Kiran has always insisted that Reigh keep the news of this power to himself, but as Reigh gets older, it becomes harder to do so. Luntharda has known peace for decades thanks to the dragon-riding human hero Jaevid Broadfeather. Forty years ago, Jaevid ended the Gray War and brought amity to Luntharda and human Maldobar, but now enemies threaten the citizens of Maldobar with destruction. A failed effort to get assistance from the elven people and the failed attempt to resurrect Jaevid from his divine sleep have the fate of Maldobar looking grim. Will Reigh rein his power in in time to become the hero his world so desperately needs? Conway offers immersive worldbuilding, creating a familiar-feeling, mostly white high-fantasy setting that's balanced by Reigh's colloquial voice. The narrator's journey of self-discovery feels honest and compelling even in his moments of immaturity and recklessness, and relationships among the characters feel complex and real. A fantasy novel that will have readers wanting more by the time it ends, this is a worthy series opener." —Kirkus Reviews