Grow Wild: The Whole-Child, Whole-Family, Nature-Rich Guide to Moving More (Paperback)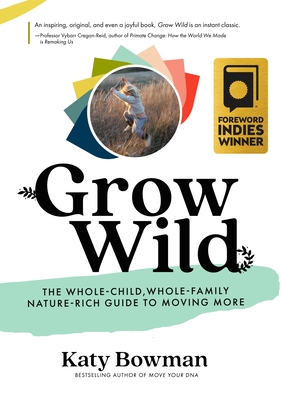 $31.95

Ships from warehouse to store in 3-6 business days
Description
---
From biomechanist and bestselling author Katy Bowman comes her eagerly anticipated guide to getting kids--from babies to preteens--and their families moving more, together, outside.
Our kids are moving less than any other generation in human history; indoor time and screen time have skyrocketed. As adults and kids turn more to convenient, tech-based solutions, tasks that once required head-to-toe use of our muscles and bones can be done with a click and a swipe. Without realizing it, we've traded convenience for the movement-rich environment that our physical, mental, and environmental health depends on.
Parents don't know what to do
But there's good news: While the problem feels massive, the solution is simple...and fun
Grow Wild not only breaks down the 'big ideas' behind movement as a nutrient, it serves as field guide--how to spot all the movement opportunities we're currently missing.
Learn to "stack your life" for richer experiences that don't take more time:
Set up your home to promote more movement, naturally
Dress for (movement) success
Add snacktivities to your meals
Plan dynamic celebrations
Create a dynamic homework space
Bring nature into your home and play
And much more
Bowman, a leader in the Movement movement, has written Grow Wild to show where movement used to fit into the activities of daily life and more importantly, how it can again.
The perfect companion to Bowman's bestseller Move Your DNA, Grow Wild provides practical, everyday, nature-rich ideas on how to let kids move their DNA while doing things they'll love. The book features:
100+ full-color photographs of kids and families moving
Success stories from parents, grandparents, teachers
"Study sessions" that make movement research more accessible to laypersons
Written to all that work with children--parents, teachers, relatives, health professionals, and more
A book to be referenced again and again as kids grow up
Grow Wild is necessary reading for a wide range of readers--anyone who spends time with children. Humans live in many places and there are countless movement opportunities wherever you live, you just need to know how to spot them.
Children and their families can thrive by learning to move more inside, adventure more outside, and grow wild in any environment.
Free Media Mail shipping on U.S. orders over $50