Sekret Machines: Gods: Volume 1 of Gods Man & War (Sekret Machines: Gods Man & War #1) (Hardcover)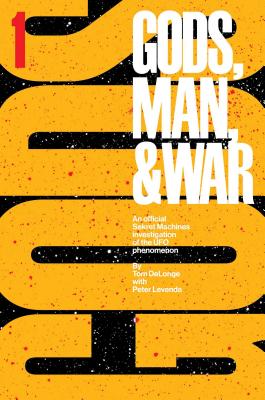 Description
---
An exceptional examination that "plays the role of an intellectual Indiana Jones, expertly guiding readers through crumbling, vine-laden Mayan temples; the stunning iconography of ancient Egypt and the esoteric creation myths of antediluvian India, Africa and China." Written by Open Mind's 2017 UFO Researcher of the Year and critically acclaimed producer Tom DeLonge with renowned research author Peter Levenda.

Sekret Machines: GODS will take you on an eye-opening journey that transcends speculation and is based on unprecedented access to officials at the highest levels of government, military and industrial agencies who have provided insights and assistance never before experienced by any researchers in this controversial field. GODS takes us beyond speculation to certain knowledge of what exactly lies at the heart of the most important Phenomenon ever to confront human understanding.

The first volume in Gods, Man & War, GODS introduces the reader to some of the critical issues that are foundational to an intelligent and enlightened grasp of the revelations that will follow in the next two volumes. There is another Force in the universe of our Reality, another context for comprehending what has been going on for millennia and especially in the last seventy years. Sekret Machines is the result of input from scientists, engineers, intelligence officers, and military officials -- a group we call the Advisors -- and transcends the speculation of journalists, historians and others whose conclusions are often either misinformed or only tease around the edges of the Sekret Machines. The reader will not discover wild theories or unfounded claims, but instead will confront a solid -- if often unsettling -- reality, one that demands the collaboration of all of us in every field of human endeavor if we are to understand it and manage its effects.

If nothing else, readers will come to the conclusion that the Phenomenon is not what they think it is. It is, in fact, much more serious and potentially much more threatening than they can imagine.

Sekret Machines: GODS is volume one of the companion investigation series to the bestselling fiction thriller Sekret Machines: Chasing Shadows by DeLonge and NYTimes bestselling author AJ Hartley. The whole is truly greater than the sum of its parts. Read together, the thriller series and the investigation series show what cannot be revealed with one approach alone.


About the Author
---
Peter Levenda is a native of the Bronx, New York but has lived or traveled all over the United States and the world in the course of his life, work and research. As an executive with an American telecommunications manufacturer he was based in Kuala Lumpur, Malaysia for more than seven years. Before that he was one of the first Americans to do business (successfully) in China. He has an MA in Religious Studies and Asian Studies from FIU, and speaks a variety of languages (some of them dead). He was briefly detained at the notorious Nazi sanctuary and interrogation center Colonia Dignidad in Chile, in 1979 during the course of research for Unholy Alliance. He has appeared in numerous television programs for the History Channel, the Discovery Channel, National Geographic, and TNT as an expert on Nazi Germany and especially on the extreme religious and esoteric ideas that formed the Nazi worldview. He has interviewed Nazis, neo-Nazis, Klansmen, occultists, CIA officers, and Islamic terrorists in the course of his research and has visited Chinese prisons and military bases; Buddhist temples; Muslim boarding schools in Indonesia; Russian Orthodox monasteries; mosques in Europe, the United States and Asia; the Palestine Liberation Organization; several voodoo hounforts; the former KGB headquarters (Dzherzinsky Square) in Moscow; has been held at gunpoint in Latin America, and celebrated with a state dinner in Beijing. At the age of seventeen he gate-crashed the funeral for assassinated Senator Robert F. Kennedy at St. Patrick's Cathedral in New York City, and led the procession out of the cathedral. (He graduated high school later that month.) He was a member of the same front organization -- a renegade Ukrainian church in the Bronx -- that provided cover for David Ferrie and Jack Martin (suspected co-conspirators in the JFK assassination). In addition, he was an auxiliary police officer for the New York Police Department. His published work has been praised by Norman Mailer, Jim Hougan, Dick Russell, Whitley Strieber, Katherine Neville, and many others. He is or was a member of MENSA, of the American Academy of Religion, of the Association of Former Intelligence Officers, of the Norman Mailer Society, and the T. E. Lawrence Society.

Jacques F. Vallee serves as a General Partner of Euro-America Ventures, a Silicon Valley group that invests in North America and Europe, primarily in high-technology. He was born in France, where he received a B.S. in mathematics at the Sorbonne and an M.S. in astrophysics at Lille University. Coming to the U.S. as an astronomer at the University of Texas, where he co-developed the first computer-based map of Mars for NASA, Jacques later moved to Northwestern University where he received his Ph.D. in computer science. He went on to work at SRI International and the Institute for the Future, where he directed the project to build the world's first network-based groupware system as a Principal Investigator on Arpanet, the prototype for the Internet. A venture capitalist with Euro-America since 1987, Jacques Vallee has spearheaded early-stage investments in over 60 high technology start-ups. Jacques is a member of the science board for the French Genopole, based in Evry (www.genopole.com) specializing in life sciences and was elected as a Trustee of the Institute for the Future (www.iftf.org). Apart from his work with information technology and finance, Jacques has had a long-term private interest in astronomy, in writing fiction and in the frontiers of research, notably unidentified aerial phenomena. He also serves on the scientific advisory board of Bigelow Aerospace in Las Vegas, Nevada (www.bigelowaerospace.com). He was awarded the Jules Verne Prize in Paris for a science fiction novel in French.
Free Media Mail shipping on U.S. orders over $50