We are closed to the public under the stay-at-home order, but we are still offering free Media Mail shipping on eligible items to the continental United States!
Native Places: Drawing as a Way to See (Hardcover)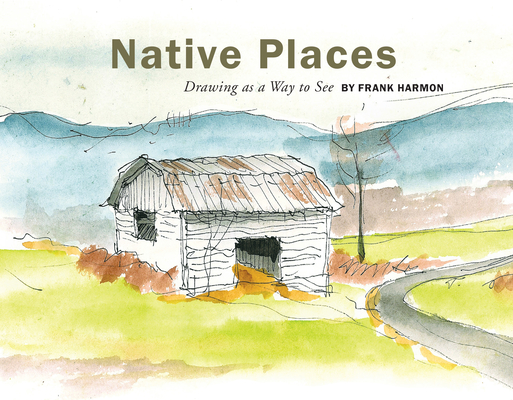 Description
---
Native Places: Drawing as a Way to See is a collection of 64 of the author's watercolor sketches paired with 200 to 250-word essays about architecture, landscape, everyday objects, and nature. The sketches convey the delight Harmon finds in ordinary places and objects. The brief essays, inspired by the sketches, offer his fresh interpretations of what most of us take for granted. His goal is, in fact, "to transform the way we see" and to promote his belief that hand drawing offers "an opportunity to develop a natural grace in the way we view the world and take part in it."
About the Author
---
Architect, author, professor, lecturer, and mentor, Frank Harmon is known for the sustainable modern buildings he has designed across the Southeast for 30 years. His work engages pressing contemporary issues such as "placelessness," sustainability, and the restoration of cities and nature. His buildings are specific to their region and sites and use materials such as hurricane-felled cypress and rock from local quarries to connect them to their landscapes. Airy breezeways, outdoor living spaces, deep overhangs, and wide lawns embody the vernacular legacy of the South while maintaining a distinguished modernism. He is a Fellow of the American Institute of Architects.
Praise For…
---
"I first saw the sketches and read the essays in this volume and many more, by visiting his website, nativeplaces.org. For those who love drawing, seek enlightenment and inspiration from the things they may pass by every day, and perhaps want to capture them in their own sketchbooks, I give Native Places my highest recommendation." —Charles Linn, FAIA, former deputy editor, Architecture Record

***

"Like a child picking up fistfuls of seemingly commonplace stones, Harmon gathers places in all their forms and meanings and thoughtfully lays them in his book, where the ordinary becomes extraordinary and everyday life takes on a new texture and meaning." –– Eleanor Spicer Rice, Ph.D

***

"Native Places provides a reflective pause in my busy day to consider the humanity of buildings and places. I find my sense of hope and possibility renewed in these simple, evocative drawings and the wisdom that accompanies them." – Marlon Blackwell, FAIA, Marlon Blackwell Architect, Fayetteville, Arkansas

***

"As subjects of this architect's drawings and commentary, ordinary objects take on extraordinary presence: chairs, mailboxes, a screened door, windows, porches, steps, columns, balconies are rendered with a spirit of the place and the people who have used them, sometimes over many decades. Harmon's drawings are a way to see the human dimension present in all architecture." — Michael J. Crosbie, Ph.D, FAIA, for Common\Edge.org

***

"Every morning I look forward to the surprise of the unscheduled dispatch from North Carolina's Frank Harmon reminding us in brilliant thoughtful, quiet meditation our unbelievable luck to be alive and to think. A masterful legacy on all levels." – Tom Kundig, FAIA, Olson Kundig Architects, Seattle, Washington

***

"Native Places…has afforded me happy pleasures, different from any that I have before derived from a book. It is unusual in many ways, one of which is that it defies strict classification. It is a sketchbook, a memoir, travel journal, aesthetic experiment, a collection of small familiar essays, and maybe in some respects even a manifesto." –– Fred Chappell, poet, author, and former North Carolina poet laureate.

***

"Native Places is a delightful book, destined to change how we see this world." – J. Michael Welton, architecture critic, News & Observer, Raleigh, North Carolina

***


Native Places: Drawing as Way to See…offers us from [Frank Harmon's] daily sketchbook a gallery of unexpected beauties. Luminous ink and watercolor drawings and meditations, crafted with a poet's gift for language, take us to places as varied as a rural barn in east Tennessee, the Lawn at the University of Virginia, a pub in London, a back porch in Eastern North Carolina, the view from Van Gogh's window at St. Remy, a trailer park brightened by a clump of iris... -- Tod Williams, FAIA, Tod Williams Billie Tsien Architects | Partners, New York, New York