FREE Media Mail shipping on eligible items! We are open for browsing by appointment from 10am-7pm M-S and 10am-6pm Sundays. Email books@quailridgebooks.com for a reservation. Phones may not be answered due to high volume of calls.
Gather at the River: Twenty-Five Authors on Fishing (Paperback)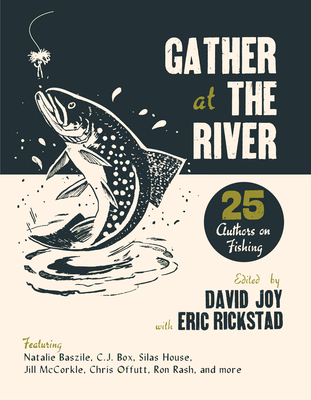 Staff Reviews
---
Imagine sitting down with your fishing buddies and sharing fishing stories. Now imagine that your fishing buddies are all fantastic authors with a way with words! While reading this collection of essays, I was taken back to childhood memories, longed for simpler times well before I came along, related to legendary stories of "The Big One," and marveled at the majesty of nature. Whether you are the bass fisherman who loads your boat full of baitcasters and electronics, the fly fisherman who enjoys solitude and the sound of babbling brooks, the shark fisherman who loves thrills and screaming reels, or maybe the thought of fishing just brings back fond memories of Grandpa with his cane pole, this one is for you.
— Cam
Description
---
From editors David Joy and Eric Rickstad comes Gather at the River, an anthology of twenty-five remarkable essays on fishing from an ensemble of contemporary authors. Their experiences explore the ways we come to water, for renewal and reverie, or to simply stand waist-deep in a river and watch the trout rise.
Gather at The River is more than a collection of big fish stories; it's Ron Rash writing about the Appalachia of his youth and C.J. Box revealing the river where he wants his ashes spread. It's Natalie Baszile on a frogging expedition in the Louisiana Bayou and a teenaged Jill McCorkle facing new realities of adulthood on Holden Beach, North Carolina. This is an anthology about friendship, family, love and loss, and everything in between, because as Henry David Thoreau wrote, "it is not really the fish they are after."
The contributors are an eclectic mix of critically acclaimed writers including New York Times Bestselling Authors Ron Rash, Jill McCorkle, Leigh Ann Henion, Eric Rickstad, M.O. Walsh, and #1 Bestseller C.J. Box.
Some of the proceeds of every sale will benefit C.A.S.T. for Kids, public charity that joins volunteers who love to fish with children who have special needs and disadvantages for a day of fishing in the outdoors.
About the Author
---
Eric Rickstad is the New York Times, USA Today, and international bestselling author of the Canaan Crime Series novels, which includes THE NAMES OF DEAD GIRLS, THE SILENT GIRLS, and LIE IN WAIT. These dark, psychological page-turners, set in remote northern Vermont, are heralded as masterful, disturbing, profound and heartbreaking. Rickstad's first novel, REAP, was a New York Times Noteworthy Novel. His latest novel WHAT REMAINS OF HER will be published July 24, 2018. Rickstad lives in Vermont with his wife, son, and daughter, and writes all his first drafts with a pencil in notebooks, often outside in the Vermont woods.