FREE Media Mail shipping on eligible items! We are open for browsing by appointment from 10am-7pm M-S and 10am-6pm Sundays. Email books@quailridgebooks.com for a reservation. Phones may not be answered due to high volume of calls.
The Deeper the Water the Uglier the Fish (Paperback)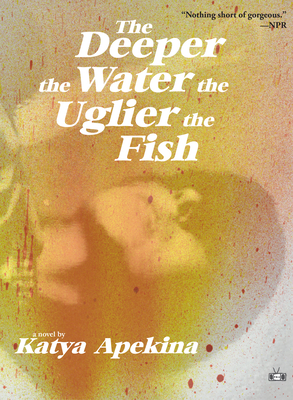 $16.99
Available from warehouse in 1-5 business days
Staff Reviews
---
This is a fantastic debut novel by Katya Apekina that was shortlisted for a 2019 LA Times Book Award.  Two young sisters move to New York to live with their estranged father after their mother's botched suicide attempt.  One of the young girls falls in love with their father (a famous novelist), and one hates him.  It is a beautiful novel about the nebulous nature of identity, and the trouble that can result when one judge's a book by its cover.
— Jason
Description
---
*2018 Los Angeles Times Book Prize Finalist
*Longlisted for The Crook's Corner Book Prize
*Longlisted for the 2019 VCU Cabell First Novelist Award
*A Best Book of 2018 --Kirkus Reviews, BuzzFeed News, Entropy, LitReactor, LitHub
*35 Over 35 Award 2018
*One of the Most Anticipated Books of the Fall --Vulture, Harper's BAZAAR, BuzzFeed News, Publishers Weekly, The Millions, Bustle, Fast Company
It's 16-year-old Edie who finds their mother Marianne dangling in the living room from an old jump rope, puddle of urine on the floor, barely alive. Upstairs, 14-year-old Mae had fallen into one of her trances, often a result of feeling too closely attuned to her mother's dark moods. After Marianne is unwillingly admitted to a mental hospital, Edie and Mae are forced to move from their childhood home in Louisiana to New York to live with their estranged father, Dennis, a former civil rights activist and literary figure on the other side of success.
The girls, grieving and homesick, are at first wary of their father's affection, but soon Mae and Edie's close relationship begins to fall apart--Edie remains fiercely loyal to Marianne, convinced that Dennis is responsible for her mother's downfall, while Mae, suffocated by her striking resemblances to her mother, feels pulled toward their father. The girls move in increasingly opposing and destructive directions as they struggle to cope with outsized pain, and as the history of Dennis and Marianne's romantic past clicks into focus, the family fractures further.
Moving through a selection of first-person accounts and written with a sinister sense of humor, The Deeper the Water the Uglier the Fish powerfully captures the quiet torment of two sisters craving the attention of a parent they can't, and shouldn't, have to themselves. In this captivating debut, Katya Apekina disquietingly crooks the lines between fact and fantasy, between escape and freedom, and between love and obsession.
"The structure, characters and storyline are all refreshingly original, and the writing is nothing short of gorgeous. It's a stunningly accomplished book, and Apekina isn't afraid to grab her readers by the hand and take them to some very dark and very beautiful places."
--Michael Schaub, NPR
About the Author
---
Katya Apekina is the author of the novel The Deeper the Water the Uglier the Fish. She has had stories published in The Iowa Review, Santa Monica Review, West Branch, Joyland, PANK and elsewhere, and has appeared on the Notable List of Best American Nonrequired Reading 2013. She translated poetry and prose for Night Wraps the Sky: Writings by and about Mayakovsky (Farrar, Straus, and Giroux, 2008), which was short-listed for the Best Translated Book Award. She co-wrote the screenplay for the feature film New Orleans, Mon Amour, starring Elisabeth Moss, which premiered at SXSW in 2008. Born in Moscow, she currently lives in Los Angeles.Find out more here: apekina.comTwitter: @katyaapekinaInstagram: @katyaapekina