We are offering FREE media mail shipping on books. We are open from 10am-7pm Monday through Saturday and 10am-6pm Sunday. Phones may not be answered due to a high volume of calls.
The Education of a Lifetime (Hardcover)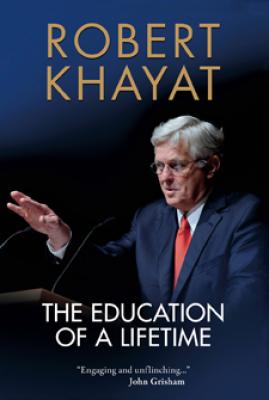 $24.95
Hard to find: allow 24 hours for information
Description
---
A riveting account of the life of Ole Miss Chancellor Robert Khayat — including his fight to disassociate Ole Miss from Old South, racist symbols.
Praise For…
---
"Robert Khayat's extraordinary life has had more rough patches than most observers would believe. In this engaging memoir, he provides an unflinching look at the challenges, the adversity, and the ups and downs of a career that ultimately transformed a great American university."

John Grisham



"From the playing fields of the NFL to the groves of academe, where he broke the shackles of the Old South at his alma mater, Robert Khayat has led a remarkable life, and his memoir is full of wonderful anecdotes and wisdom. As an ancient scholar said of Aesop and his fables, 'He makes use of humble incidents to teach great truths.'"

Curtis Wilkie, author of The Fall of the House of Zeus



"A highly readable and entertaining story of leadership and vision taking on a stagnant culture. Inspirational and insightful."

Ace Atkins, New York Times best selling author of The Broken Places



"Robert Khayat needs no introduction as both an educator and an indomitable torchbearer for a better Mississippi. The grand surprise of The Education of a Lifetime is Dr. Khayat's storytelling. Having clearly absorbed the state's rich narrative tradition, Dr. Khayat quilts an array of magnificently-told stories—about watching a bad movie with Elvis to kicking a 50-yard field goal against the New York Giants to painfully exorcising the malign remnants of Ole Miss's history—into a remarkable, candid, and deeply inspiring memoir."

Jonathan Miles, author of Dear American Airlines and Want Not



"Maybe once or twice in a thousand years, fate places a person who will do the right thing in the right place at the right time. Robert Khayat left the nest of quiet bayous and coastal rhythms to tackle life, learning and the law. His toughest adversary along the way: tradition. Armed with a cowboy hero's fortitude and a certain guileless charm, Robert managed to kick one through the uprights for his oft-maligned Mississippi."

Rheta Grimsley Johnson

Author of Hank Hung the Moon and Warmed Our Cold, Cold Hearts



"It's not just that The Education of a Lifetime should be required reading for all University of Mississippi students and alumni and friends. It's that it should be read for all who feel called to be leaders, and by all who have been led. By all who've dedicated their lives to improving their communities, and by all who've had moments of struggle and doubt while doing so. By all who love the South, and by all who can't conceive of such love. In short, this is a book for everyone. Here we have episodes from a long and challenging career—the charming of an eccentric donor; the attempt to separate Ole Miss from the racially charged symbol of the Confederate flag, which resulted in death threats for Robert Khayat and his family; the hosting of the Presidential debate, in an effort to show the world the university's progress. With candor and humor, Robert Khayat tells the stories behind the stories that have made him a respected leader and an inspiration to so many." Beth Ann Fennelly & Tom Franklin, co-authors of The Tilted World

"Charismatic, energetic, visionary, Robert Khayat inherited in 1995 an underfunded and dwindling state university haunted by Mississippi's racist history. Over the dozen years under his leadership, the university transformed itself into a thriving public institution committed to academic excellence and proud of being chosen to host the first Presidential debate between John McCain and Barack Obama. In this memoir, The Education of a Lifetime, the beloved former Chancellor tells us how. I have taught at the University of Mississippi for twenty-five years, and I'm moved to read the history of its extraordinary changes."

Ann Fisher-Wirth, Award-winning poet



"Robert Khayat has written a delightful, insightful account of who he is and why. Joyous reading. A real winner!"

Perian Conerly, author of Backseat Quarterback



"I left Mississippi over fifty years ago to make movies in Hollywood. I made a few. Robert, my dear friend and chancellor, has written a book that has made me wish I had stayed home. If I had, I might've accomplished half as much as he has. A must read for all."

Larry Gordon, Producer of Field of Dreams and Die Hard