We are offering FREE media mail shipping on books. We are open from 10am-7pm Monday through Saturday and 10am-6pm Sunday. Phones may not be answered due to a high volume of calls.
Chimes from a Cracked Southern Belle (Paperback)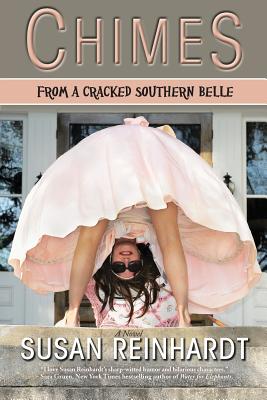 $15.95
Available from warehouse in 1-5 business days
Description
---
Most people think the reason Dee Millings married the best looking man in the Carolinas, who turned out to be a complete psycho and near-murderer, is because she was raised all wrong. Dee, a 38-year-old heroine to root for, sets out on a path winding with loveable kooks, wanting to prove there is a great life on the other side of tragedy and a crazed ex behind bars who continues to mail threatening letters from prison. Her new adventure begins two years after the crime spree that nearly stopped her heart and left her flat-lining. She packs up her two young kids and settles in her parents' South Carolina hometown where she deals with a delightful, but over-the-top mama who pretends her grown daughters are virgins. Dee finds new purpose for herself and her children, discovering joy in places she never expected it: in a nursing home where she tends to the likes of 104-year-old Annie Sue who still drives and has a hankering for cold draft beer. Offering heaps of comic relief, Dee's Aunt Weepie lives to crash funerals just to get the covered-dish meals after the gravesides, no matter she has no idea who's in the coffins. Her antics lead her to making a daring decision that could change Dee's life forever. As Dee begins a journey toward recovery and becoming a registered nurse, a dark secret resurfaces, one that if handled right, could be her ticket to allow herself to love again.
About the Author
---
Susan Reinhardt, a well-known, award-winning columnist, is author of six books along with many anthologies. Her bestselling book of humor, Not Tonight Honey, Wait 'Til I'm a Size 6, is now in its seventh printing. This was followed by Don't Sleep with a Bubba, a Book of the Year winner, and Dishing with the Kitchen Virgin, a best-selling collection of hilarious culinary disasters with a dash of PG-13 humor and a smidgeon of sex. All were published by Kensington in New York City. In addition to writing, she's a stand-up comedian, public speaker, public servant, taxi driver to her teen daughter, debit card to her 20-year-old son, and a borderline candidate to appear on The Hoarders" Buried Alive! if you saw her bedroom/office and the amount of books and stacked papers. She is mother of two: daughter Lindsey, 14, and son Niles, 20. They are her true loves and the very reason she BEGS her husband (second hubby) for Botox at least once a year. Reinhardt is involved in many charities, including child and animal welfare groups and is a community volunteer.
Praise For…
---
Named Top Summer Reading Pick by the University of Georgia and chosen as a Pulpwood Queens selection.





"I love Susan Reinhardt's humor and hilarious characters."

Sara Gruen - New York Times bestselling author of Water for Elephants and Ape House.





"You don't have to be from the South to fall in love with Susan Reinhardt's novel, Chimes from a Cracked Southern Belle. Reinhardt shows her fiction chops in this hilarious, offbeat and painfully accurate portrayal of one woman's journey back to sanity in the South."

-Tracy Beckerman, syndicated humor columnist and author of Lost in Suburbia: A Memoir: How I Got Pregnant, Lost Myself, and Got My Cool Back in the New Jersey Suburbs.





"I have had the very great pleasure of reading excerpts from Susan Reinhardt's new novel, Chimes from a Cracked Southern Belle. It is just a marvel of wit in that grand southern tradition in which we laugh in order not to cry. This is summer reading,"

-Elaine Neil Orr, SIBA bestselling author of "A Different Sun: A Novel of Africa."