The Commentators: 100 Years of Sports Commentary (Paperback)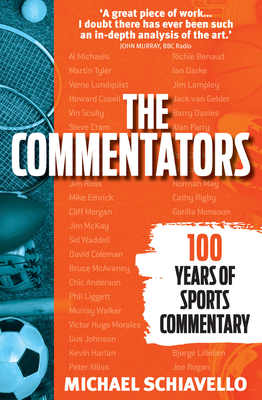 $17.95

Ships from warehouse to store in 3-5 business days
Description
---
Award-winning commentator Michael Schiavello examines the greatest sports commentators in history, the best calls ever heard, and offers stories from his own journey through the sports broadcasting world.

The Commentators reviews of more than 60 of the best moments in sports history and examines some of the finest plays and commentary calls across 20 different sports including soccer, American football, golf, boxing, Formula One, horse racing, ice hockey, athletics, tennis, baseball, cricket, professional wrestling, darts, rugby, cycling, and more—plus the biggest sports events, including Olympics (summer and winter), FIFA World Cup, Super Bowl, World Series, and Rugby World Cup.

A powerful story unfolding during a sports event can inspire us about a sport we've never watched, an athlete we haven't heard of, or a country we've never visited or even located on a map. Stories engross an audience and engage them on an emotional level. Once a commentator captures an audience's emotions, they're putty in his hands. The power of sports lies within those individuals and the ability of the commentator to tell those stories.
About the Author
---
Michael Schiavello is a 27-year television and radio commentary veteran, sports writer, and best-selling author. Known as "The Voice," Michael has called sports events in more than in 26 countries on networks including TNT, Spike, SyFy, AXN, NBC Sports, Fox Sports, CBS Sports, Sky, and AXS TV. An Olympic Games and Commonwealth Games commentator, Michael won the 2019 Asian Television Award in the category of "Best Sports Presenter/Commentator." He is the only commentator in history to be nominated for the award three times. Michael hosted The Voice Versus on US television network, AXS TV between 2010-2017. The prime time, CableFax Award nominated interview show included such guests as, Hulk Hogan, George Foreman, Steven Seagal, Sugar Ray Leonard, Dan Gable, Michael Jai White, Steve Austin, Joe Rogan, and Dana White. Michael's work for One Championship, Asia's largest global sports media property, sees him broadcast to more than 150 countries.
Praise For…
---
"The ultimate book for all sports fans!" —Pat Miletich, UFC Hall of Famer, Commentator for Showtime and ESPN

"In particular, his writing of Scully's call of the perfect game pitched by Sandy Koufax in 1965 was a masterpiece. It would be hard to do justice in the printed word to Scully's wonderful call of that game, but the writing about Scully's call in the 9th inning is a must-read passage. . . . A book that any sports fan should read." —Sports Book Guy