Mothtown (Paperback)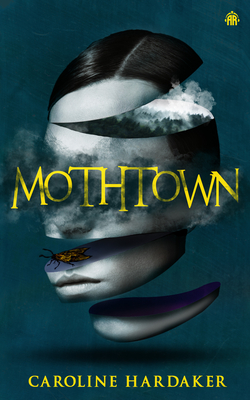 Description
---
Including illustrations from bestselling illustrator and political cartoonist, Chris Riddell, Mothtown is the unsettling and eerie new novel by Caroline Hardaker, perfect for fans of Midsommar and Rivers Solomon's Sorrowland.

As a child, David could tell something was wrong.

The kids in school spread rumours of missing people, nests of bones and bodies appearing in the mountains. His sister refused to share what she knew, and his parents turned off the TV whenever he entered the room. Protecting him, they said.

Worse, the only person who shared anything at all with him, his beloved grandpa, disappeared without a goodbye. Mum and Dad said he was dead. But what about the exciting discovery Grandpa had been working on for his whole life?

Now 26, David lives alone and takes each day as it comes. When a strange package arrives on his doorstep, one with instructions not to leave the Earth, a new world is unfurled before David, one he's been trying to suppress for years…

Blending horror and literary fiction, Mothtown is the strange new novel from celebrated author Caroline Hardaker.
About the Author
---
CAROLINE HARDAKER is a poet and novelist from the northeast of England. She has published two collections of poetry, and her work has appeared worldwide in print and on BBC radio. She is Writer in Residence for Newcastle Puppetry Festival and is currently collaborating with the Royal Northern College of Music to produce a cycle of songs to be performed throughout the year. She lives and writes in Newcastle.
Praise For…
---
"Hardaker will put a spell on you with her sleek and haunting prose."
– Silvia Moreno-Garcia, bestselling author of Mexican Gothic

"Hardaker returns with yet more moody and malevolent body horror, rife with the underpinning themes of isolation and loneliness."
– SciFiNow

"Hardaker's prose is pensive, melancholic and lyrical."
– The Fantasy Hive

"Mothtown broke my mind in the best way. It is a touching story of a grandfather who discovers a secret about the nature of Universe (think Lord Asriel of His Dark Materials, but more domesticated) and his grandson, David, who tries to follow him into the place he goes. Revelation, transformation, and madness follow in this absolute song of a book."
– Chris Panatier, author of The Phlebotomist

"Mothtown is an ambitious, intimate portrait of an isolated mind and the atrophy of societal bonds. A real treat for the fans of Kazuo Ishiguro and of Susanna Clark's Piranesi, it's one of those books that will stay with you for a long time."
– Gabriela Houston, author of The Second Bell



ADDITIONAL PRAISE FOR CAROLINE HARDAKER

"Deliciously creepy!"
– Chris Riddell, triple Award-winner of the Kate Greenaway Medal

"Highly recommended."
– Booklist, Starred Review

"as thought-provoking as it is chilling."
– Publishers Weekly

"Hardaker's prose is pensive, melancholic and lyrical."
– The Fantasy Hive

"an exceptional debut novel."
– SciFiNow

"The writing is wistful and works in such a way you don't realise how wonderfully strange the book is until you are enfolded in it."
– RJ Barker, author of The Bone Ships

"An unapologetic, intimate tale of our shared human fragility, and the deceptions we employ to keep from breaking."
– Chris Panatier, author of The Phlebotomist

"Creepy and enthralling, Hardaker's superbly written debut will drip feed you dread from beginning to end."
– Dan Hanks, author of Captain Moxley and the Embers of the Empire

"Mothtown is an ambitious, intimate portrait of an isolated mind and the atrophy of societal bonds. A real treat for the fans of Kazuo Ishiguro and of Susanna Clark's Piranesi, it's one of those books that will stay with you for a long time."
– Gabriela Houston, author of The Second Bell



Free Media Mail shipping on U.S. orders over $75