Binge Eating: STOP STUFFING YOURSELF - Proven Strategies To Stop Emotional Eating And Gain True Happiness By Learning To Love Yourse (Paperback)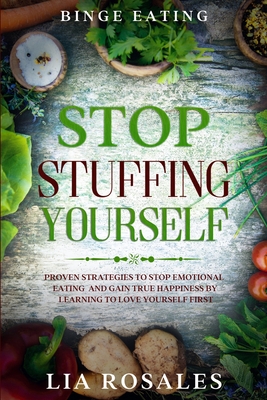 $19.99

Ships from warehouse to store in 3-6 business days
(NOTE: This book cannot be returned and may not be eligible for discounts.)
Description
---
Emotional eating occurs when a person suffering from emotional deficiencies of some sort, including lack of affection, lack of connection, or other factors like stress, depression, anxiety, or even general negative feelings like sadness or anger, eats in order to gain comfort from the food they are eating.
Are you suffering from emotional eating, binge eating disorder, or bulimia? Do you want to change your relationship with food? Do you want to look deep within and find the root causes of your daily struggles? If you find yourself struggling with any of these forms of disordered eating, this book is the guide you need. Read on to find out exactly what this book will teach you.
If you have been wondering what you can do about your disordered eating, this book will give you a step-by-step guide for how you can begin to recover and change your life for good. Included in this book is not only this step-by-step guide but a wealth of information that will help you to better understand exactly why you suffer from disordered eating.
In "STOP STUFFING YOURSELF" You Will Learn:
✓ What Is Emotional Eating, Binge Eating, and Bulimia
✓ Why Do People Eat Emotionally
✓ Scientific research on eating disorders and why they exist
✓ Understanding the neuroscience of brain chemicals and food
✓ How to use intuitive eating to change your life
✓ What kind of foods to choose?
✓ How to develop and use healthier thinking patterns
✓ Where to go for help if your disordered eating becomes uncontrollable
✓ How to seek therapy or counseling
✓ Psychological and Emotional Triggers
✓ Addressing the Core Wounds
✓ How to Use Positive Self-Talk?
✓ Nutrients You Need and How to Get Them
✓ How to Make These New Choices a Habit
✓ How To Seek Help If It Becomes Uncontrollable?
And so much more
Pick up your copy of the book right now by clicking the BUY NOW button at the top of this page
Free Media Mail shipping on U.S. orders over $50
Christmas ordering guidelines
"Ships from warehouse" items to be shipped: Order by Monday, 12/5
"Ships from warehouse" items to be picked-up in store: Order by Monday, 12/12
On hand items: We'll pull items in order of orders received, so keep them coming!