Anna Karenina (Abridged / Paperback)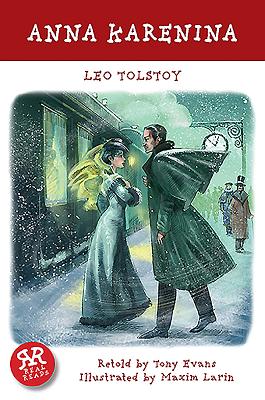 $6.95
Available from warehouse in 1-5 business days
Staff Reviews
---
A well respected translator of Russian fiction, Schwartz was determined to give us Anna Karenina as Tolstoy wrote it: In the simple, unadorned language he preferred. I found this translation immensely powerful - bringing me to tears at times.  It is also illuminating -revealing nuances in the characters I'd never before grasped. The cogent introduction by Gary Saul Morson,  which summarizes the novel's central themes, provides a great starting point for book club discussion. 
— Samantha
Description
---
A guard had stepped back into the path of a train and been crushed beneath the wheels. He had been killed instantly. When Anna Karenina arrives at the scene of a horrible accident, it is the beginning of a new and troubling time in her life. Will she ever find happiness with the man she loves? Anna's sister in law, Darya Oblonsky, is threatening to leave her selfish husband. Is Anna able to save their marriage? Anna's young son, Sergey, is sure that one day his mother will return to him. Can the pair ever be reunited? Konstantin Levin is determined to marry Kitty, but she is dazzled by the lively and handsome Count Vronsky. Levin prefers a quiet life in the countryside to dinner parties and dances. Which of them will she finally choose?

Real Reads are accessible texts designed to support the literacy development of primary and lower secondary age children while introducing them to the riches of our international literary heritage. Each book is a retelling of a work of great literature from one of the world's greatest cultures, fitted into a 64-page book, making classic stories, dramas and histories available to intelligent young readers as a bridge to the full texts, to language students wanting access to other cultures, and to adult readers who are unlikely ever to read the original versions.