Anna Karenina (Evergreens) (Paperback)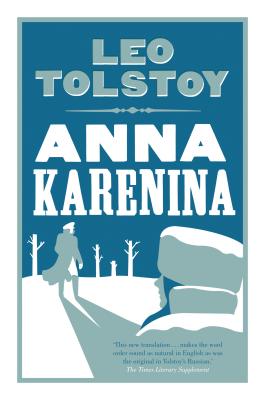 $9.95
Available from warehouse in 1-5 business days
Staff Reviews
---
A well respected translator of Russian fiction, Schwartz was determined to give us Anna Karenina as Tolstoy wrote it: In the simple, unadorned language he preferred. I found this translation immensely powerful - bringing me to tears at times.  It is also illuminating -revealing nuances in the characters I'd never before grasped. The cogent introduction by Gary Saul Morson,  which summarizes the novel's central themes, provides a great starting point for book club discussion. 
— Samantha
Description
---
Leo Tolstoy's most personal novel, Anna Karenina scrutinizes fundamental ethical and theological questions through the tragic story of its eponymous heroine. Anna is desperately pursuing a good, "moral" life, standing for honesty and sincerity. Passion drives her to adultery, and this flies in the face of the corrupt Russian bourgeoisie. Meanwhile, the aristocrat Konstantin Levin is struggling to reconcile reason with passion, espousing a Christian anarchism that Tolstoy himself believed in.
Acclaimed by critics and readers alike, Anna Karenina presents a poignant blend of realism and lyricism that makes it one of the most perfect, enduring novels of all time.
About the Author
---
Jenny Hughes is a lecturer in Applied Theatre at the University of Manchester and a Director of the Centre for Applied Theatre Research. She has worked as a practitioner in the criminal justice and special education system in the UK and as a researcher for In Place of War, with particular focus on Israel and the Occupied Palestinian Territories, Sri Lanka and Northern Ireland.
Praise For…
---
"The truth is we are not to take Anna Karenina as a work of art: we are to take it as a piece of life." - Matthew Arnold
"Anna Karenina is a perfect work of art. This novel contains a humane message that has not yet been heeded in Europe and that is much needed by the people of the western world." - Fyodor Dostoevsky
"What I confidently named the greatest social novel of world literature is in fact a novel against society." - Thomas Mann
"Tolstoy's greatness lies in not turning the story into sentimental tragedy . . . His world is huge and vast, filled with complex family lives and great social events. His characters are well-rounded presences. They have complete passions: a desire for love, but also an inner moral depth." - Malcolm Bradbury
"It's so fantastic that it can be read over and over again . . . I don't know any other writer who is so adept at peopling their pages." - Maggie O'Farrell
"Tolstoy is the greatest Russian writer of prose fiction." - Vladimir Nabokov
"The new translation into accurate and readable English by Kyril Zinovieff and Jenny Hughes surpasses even the most recent version by Richard Pevear and Melissa Volokhonsky . . . [it] makes the word order sound as natural in English as was the original in Tolstoy's Russian." - The Times Literary Supplement
"Kyril Zinovieff has produced a fine, intelligent, sensitive translation that brings the Russian text alive in a way that immediately enriches a reader's awareness of its intentions and nuances." - East West Review