The Irish Diaries: (1994-2003) (Paperback)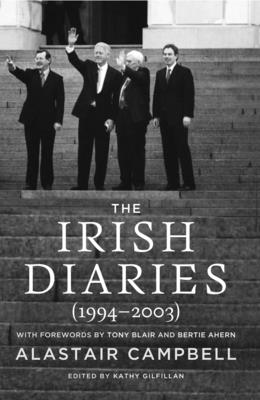 $24.95

Ships from warehouse to store in 3-6 business days
Description
---
The four volumes of spokesman and strategist Alastair Campbell's diaries were a publishing sensation.
As British Prime Minister Tony Blair's right-hand man, former journalist and political analyst Campbell played a critical role in every aspect of New Labour strategy. Charting the course of British government from July 1994 to August 2003, Campbell¹s relentlessly honest, often controversial, occasionally brutal, and always razor-sharp commentary has drawn critical acclaim from around the world.
This newly edited one-volume edition focuses on one of the Blair government's biggest successes, the Northern Ireland peace process. From the high of the Good Friday agreement and devolution in Northern Ireland, to the deadly lows of the Manchester and Omagh bombings, The Irish Diaries explores the tensions, all-night talks, adrenalin-fuelled negotiations and heady personality clashes that are such an intrinsic part of democratic politics. Newly annotated and fully revised by Campbell and featuring commissioned material by key figures in the Irish peace process such as former Taoiseach Bertie Ahern,Tony Blair and Alastair Campbell himself, The Irish Diaries is invaluable for readers with an interest in Irish history.
About the Author
---
Alastair Campbell was born in Keighley, Yorkshire in 1957, the son of a vet. Having graduated from Cambridge University in modern languages, he went into journalism, principally with the Mirror Group. When Tony Blair became leader of the Labour Party, Campbell worked for him first as press secretary, then as official spokesman and director of communications and strategy from 1994 to 2003. He continued to act as an advisor to Mr Blair and the Labour Party, including during the 2005 election campaign. Since then, he has been engaged mainly in writing, public speaking and working for Leukaemia Research, where he is chairman of fundraising.
Free Media Mail shipping on U.S. orders over $50