M.R. James Ghost Stories (Gothic Fantasy) (Hardcover)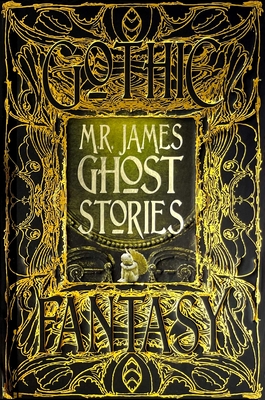 Staff Reviews
---
The ghost stories of M.R. James "are haunted, bleak disturbances of the soul, carefully crafted from the stuff of human fears."
A noted turn-of-the-century (19th-20th) master of the English horror story, James' work is widely cited as being a profound influence on the works of other writers ranging from Lovecraft to King. That they are still read and enjoyed in the 21st century is a strong testament to the impact of his stories.
Give them a try. They are still fully capable of leaving the modern reader with chills.
— Bud
Description
---
M.R. James's celebrated ghost stories resonate still, their chilling narratives drawing us unsuspecting into the deadly shadows. His tales are haunted, bleak disturbances of the soul, carefully crafted from the stuff of human fears. A towering presence in literature, TV and the movies, his work is much admired today. A deluxe edition, this sinister new collection offers many of his most famous tales, with some of the less well known, including: 'Oh, Whistle, and I'll Come to You, My Lad', 'Canon Alberic's Scrap-Book', 'The Mezzotint', 'The Fenstanton Witch', 'The Experiment' and 'Wailing Well'.

The Flame Tree Gothic Fantasy, Classic Stories and Epic Tales collections bring together the entire range of myth, folklore and modern short fiction. Highlighting the roots of suspense, supernatural, science fiction and mystery stories, the books in Flame Tree Collections series are beautifully presented, perfect as a gift and offer a lifetime of reading pleasure.
About the Author
---
M.R. James (1862–1936) was an absolute master of the ghost story, and foundation stone of modern horror. His work influenced authors such as H.P. Lovecraft, Ramsey Campbell and Stephen King. His story collections, including Ghost Stories of an Antiquary, remain popular today.

Robert Lloyd Parry is a writer, actor and storyteller. He started 'The M.R. James Project' in 2005 with solo performances of James's works. Since then, the Project has yielded more one-man shows, DVDs, audiobooks, documentaries, magazine articles, a guided walk, and the anthology Ghosts of the Chit-Chat. For more information visit www.nunkie.co.uk.
Free Media Mail shipping on U.S. orders over $50
Christmas ordering guidelines
"Ships from warehouse" items to be shipped: Order by Monday, 12/5
"Ships from warehouse" items to be picked-up in store: Order by Monday, 12/12
On hand items: We'll pull items in order of orders received, so keep them coming!