Lonely Planet Kids Gods, Goddesses, and Heroes 1 (Hardcover)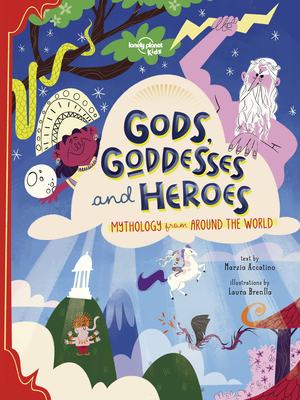 $17.99

Ships from warehouse to store in 3-6 business days
Description
---
From monster-slewing heroes to ancient accounts of gods and goddesses from all around the world, such as Thor and Odin, the beautifully illustrated follow-up to Atlas of Monsters and Ghosts is a fun and fascinating journey through the realms of mythology, enthralling with tales of creation, legendary fables, gods and beasts.
Accompanied by engaging text by Marzia Accatino, Laura Brenella's captivating illustrations take you on a voyage of discovery all over the globe. Guided by the centaur Chiron, young readers will vault across the world to learn about the powers and weaknesses of the gods, the adventures of the great heroes, the best ways to befriend strange creatures, and the most useful tricks for escaping terrible monsters. From Norse legends of valiant Valkyries preparing for battle to the powers of Ancient Egypt's gods and goddesses, this is an exciting introduction to the world of gods, goddesses and heroes for young kids.
About Lonely Planet Kids: Lonely Planet Kids - an imprint of the world's leading travel authority Lonely Planet - published its first book in 2011. Over the past 45 years, Lonely Planet has grown a dedicated global community of travelers, many of whom are now sharing a passion for exploration with their children. Lonely Planet Kids educates and encourages young readers at home and in school to learn about the world with engaging books on culture, sociology, geography, nature, history, space and more. We want to inspire the next generation of global citizens and help kids and their parents to approach life in a way that makes every day an adventure. Come explore!
Free Media Mail shipping on U.S. orders over $75