Little Women (Paperback)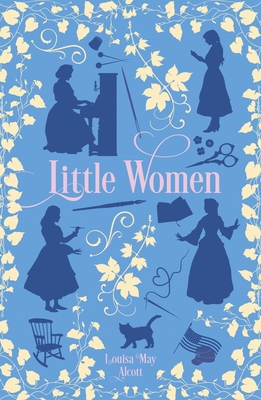 One of the original YA novels, this book is timeless. Through the eyes of the four main characters the reader experiences romance, growing up, loss, joy, marriage, success and more. This is such a sweet and powerful book about four girls finding their way in the midst of the Civil War and learning to stand on their own two feet. Especially as we enter the summer months, this is a great book to read in the sun as you watch the March sisters find themselves. The characters are all so different and so relatable: Jo, the tomboyish writer, Meg, the caring older sister, Beth, the altruistic loving piano player, and Amy the comic relief, egotistical painter. If you are looking for a book with strong female characters, vulnerable, realistic writing and satisfying romance this is the book for you!
— Taylor W.
Description
---
'I don't like to doze by the fire. I like adventures, and I'm going to find some.'
Little Women
tells the brilliant tale of the four March sisters: sensible Meg, tomboyish Jo, timid Beth and artistic Amy. As their father goes off to fight in the Civil War, they must adjust to their recent poverty and begin to navigate the adult world. Through a series of adventures, these sisters make friends, get up to mischief, grapple with their vices and eventually find love. Both heart-warming and heart-wrenching,
Little Women
is a masterpiece of children's literature and a true American classic. This paperback edition contains the original and unabridged text, perfect for children aged 8+.
About the Author
---
Louisa May Alcott was an American novelist and poet (1832-1888). She is most famous for her novel, 'Little Women'.
Free Media Mail shipping on U.S. orders over $75