Lost In Time (Hardcover)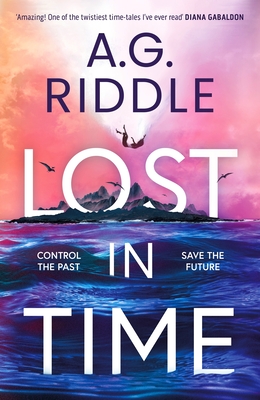 Staff Reviews
---
I am not usually drawn to science fiction, but Lost In Time by A.G. Riddle pulled me in by page 1 - the characters are compelling and the story is mind-bending. I found myself at times - which times?!! past, present, future? - re-reading passages to see how that could possibly happen only to remind my startled self that this is science fiction!
But it seems so real. So plausible. So scientifically reasonable!
I was thoroughly taken with the focused, rational brilliance of the characters as they tried against impossible odds to will their own survival in their extraordinary circumstances. The author skillfully guided me to lose myself in the past, present and future alongside these smart, capable and, at times, enigmatic traveling companions.
An absorbing, compelling read with whip-smart characters - I highly recommend that you lose yourself in Lost InTime!
— Belinda
Description
---
The SUNDAY TIMES bestseller

"Amazing! One of the twistiest time-tales I've ever read."
–Diana Gabaldon

"Crichtonesque thrillers don't come much better than this... Readers won't be able to turn the pages fast enough."
–Publishers Weekly (Starred Review)

"Are we talking plot twists? More like spirals. Gripping, clever, mind-bending stuff."
–Daily Mail

From the worldwide bestselling author of Departure and Winter World comes a standalone novel about a father and daughter trying to unravel an intricate murder mystery spread across time – with a jaw-dropping twist.

Control the past.

Save the future.

One morning, Dr. Sam Anderson wakes up to find that the woman he loves has been murdered.

For Sam, the horror is only beginning.

He and his daughter are accused of the crime. The evidence is ironclad. They will be convicted.

And so, to ensure his daughter goes free, Sam does what he must: he confesses.

But in the future, murderers aren't sent to prison.

Thanks to a machine Sam helped invent, the world's worst criminals are now sent to the past – approximately 200 million years into the past, to the dawn of the time of the dinosaurs – where they must live out their lives alone, in exile from the human race.

Sam accepts his fate.

But his daughter doesn't.

Adeline Anderson has already lost her mother to a deadly, unfair disease. She can't bear to lose her father as well.

So she sets out on a quest to prove him innocent. And to get him back. People around her insist that both are impossible tasks.

But Adeline doesn't give up. She only works harder.

She soon learns that impossible tasks are her specialty. And that she is made of tougher stuff than she ever imagined.

As she peels back the layers of the mystery that tore her father from this world, Adeline finds more questions than answers. Everyone around her is hiding a secret. But which ones are connected to the murder that exiled her father?

That mystery stretches across the past, present, and future – and leads to a revelation that will change everything.
About the Author
---
A.G. Riddle spent ten years starting and running internet companies before retiring to focus on his true passion: writing fiction. He lives in North Carolina. Visit www.agriddle.com
Praise For…
---
"One of the twistiest time-tales I've ever read! An amazing story of love, murder, betrayal, multiple universes, dinosaurs – and just what 'causality' really means" —Diana Gabaldon

"While my head is still spinning trying to understand the complexities of time travel and quantum mechanics, I absolutely loved this book... I highly recommend you add this book to your list, no matter your interests. This is a thrill ride that makes you think and you won't be able to put it down!" —San Francisco Book Review

"Crichtonesque thrillers don't come much better than this intricate outing which combines a fantastic premise – a time-travel device known as Absolom is used to imprison dangerous criminals in the prehistoric past – with a closed-circle whodunit... Riddle keeps the twists coming, including a mind-bending jaw-dropper that sets up the book's second half. By creating sympathetic and complex characters, the author makes suspending disbelief easy. Readers won't be able to turn the pages fast enough" —Publishers Weekly Starred Review

"The book picks up like a great roller coaster. With a nod to John Varley's Millennium, the thrills in this mystery are not so much about who the killer is but how to save lives while maintaining their timeline" Booklist

'Thoroughly gripping... Come for the time travel, stay for the plot twists.' Kirkus

"A riveting saga of a time travel novel that author A. G. Riddle has penned with impressive originality, expert storytelling skills, and an inherent fascination that will hold a very special appeal for science fiction fans." —Midwest Book Review

"We're talking high-concept thriller here... there are many japes and high jinks ahead" The Times

"Are we talking plot twists? More like spirals. Gripping, clever, mind-bending stuff" Daily Mail
Free Media Mail shipping on U.S. orders over $50
Christmas ordering guidelines
"Ships from warehouse" items to be shipped: Order by Monday, 12/5
"Ships from warehouse" items to be picked-up in store: Order by Monday, 12/12
On hand items: We'll pull items in order of orders received, so keep them coming!