Autoconfiança para Mulheres: Como Construir Autoestima, Superar a Ansiedade Social, E autorizar A Sua Vida para o Sucesso! Um guia para acabar com (Paperback)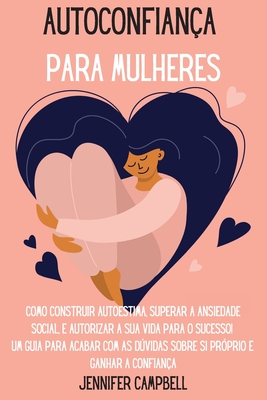 $24.95

Ships from warehouse to store in 3-6 business days
Description
---
Do you wish you had more self-confidence? Is lack of confidence holding you back?
Confidence is a significant part of our overall well-being. When you are confident, you will thrive in all areas of your life, including your career, relationships, interactions with others, as well as helping with your self-image.
Even the greatest leaders suffer from a lack of confidence from time to time. However, they have learned that they must face their fears head on and know that no matter what challenges they may face, they can overcome them quickly.
Lack of confidence is not a life sentence. Like any other skill, you can learn to develop and master your self-confidence.
So how do you build and master self-confidence?
The key is to learn how to conquer your limiting beliefs and improve your self-esteem, so you can have the confidence you need to live a happier, more fulfilling life.
That's why reading this guide can help you? You'll discover how to boost your confidence, overcome social anxiety and empower your life for success
This is exactly what you will learn by reading the book "Improve Your Self-Confidence:
- 5 ways to determine if you have low self-confidence and what to do to improve it;
- How to develop your inner voice to silence all the fears that subconsciously whisper to you;
- How to identify and change your limiting beliefs and increase your self-confidence;
- How to deal with toxic people who destroy your self-esteem and how to overcome social anxiety;
- 18 Daily habits you can incorporate into your life to help boost your self-esteem and confidence;
- 5 powerful strategies successful people use to bounce back from failure;
- How to stop procrastinating and start achieving your goals;
And much more
The key to achieving your personal and professional goals and living the life of your dreams lies in the power of confidence.
Free Media Mail shipping on U.S. orders over $50