Workbook for The Body Keeps The Score: Brain, Mind and Body in The Healing of Trauma. (Paperback)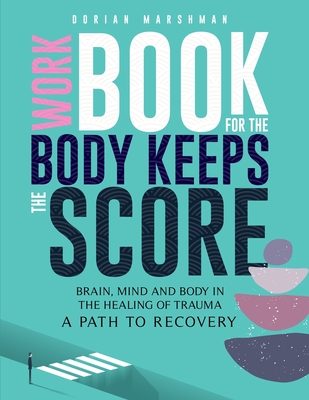 Description
---
Work Through Trauma By Putting It On The Page In This Trauma Resolution-Driven Workbook.
The Body Keeps The Score Workbook - Path to Recovery
This workbook contains exercises, presents ideas, and poses transformative questions as a means to help readers work through trauma. The workbook is based on the #1 New York Times Bestseller - The Body Keeps The Score; Brain, Mind and Body in the Healing of Trauma - written by Bessel van der Kolk.
Whether we are sheltered, wealthy, and given every opportunity in life - or if we're impoverished, socially outcast, and have been exposed to upsetting realities of life - we all experience trauma.
Trauma plays a fundamental part in who we are and how we react to the world around us. By understanding where our Post-Traumatic Stress Disorder (PTSD) comes from and how it has affected our brains and bodies - we can actively look to work through trauma in the hope of reclaiming our lives.
The Body Keeps The Score serves as a tool in understanding how trauma has a fundamental impact on the shape and function of both our brains and our bodies. It also contains information regarding how innovative treatments, such as meditation or sports therapy, are designed to activate the brain's natural neuroplasticity to help you better adapt to change and overcome past traumas.
This workbook offers a guideline for working through the systematic steps of PTSD recovery. It also offers an active approach for trauma victims to process and resolve the pain of the past that hinders them from living a full and weightless life.
The Chapters in this Workbook Cover the Following:
-Detecting Trauma
Discussion on what trauma is and how the different forms that it can take will affect your mind and your body differently. In-depth discussion also included on emotional and physiological trauma.
-Common Signs and Symptoms of Trauma
Information on how to identify PTSD based on how your body responds to events or situations. Insight is also shared on what causes trauma and how trauma ripples into many aspects of our everyday lives.
-Scientific and Medical Facts About Trauma
Researched and science-based facts about PTSD and its effect on one's health.
-Does Trauma End?
Actionable steps towards recovery - how to resolve trauma.
-Getting Past Trauma
An internal look at how the only person who can help you through your trauma is yourself. Other related topics covered in this chapter include: Letting go of the past, how trauma inhabits your body, self-healing, filling in the holes, and the power of self-confidence.
-After Trauma; What Next?
The importance of understanding your trauma, the impact it has had on your livelihood, as well as how to manage your trauma and deal with potential stigmatization.
-Total Recovery from Trauma
How to remove the effects of trauma and reclaim your life.
This workbook isn't an expense - it's an investment into a happier life. The choice is yours - you can continue to be a victim of your trauma, or you can choose to get up, move on, and live the PTSD-free life you've been dreaming of for so, so long...
If you're ready to become a survivor of PTSD, not its victim, then you know what to do...scroll up and hit BUY NOW to make the workbook YOURS today
NOTE: this workbook is based off the book The Body Keeps The Score - we strongly advise that you read Bessel van der Kolk's book prior to purchasing. This workbook offers further explanation and actionable steps on how to resolve trauma based on the information discussed in Kolk's book.
Free Media Mail shipping on U.S. orders over $50